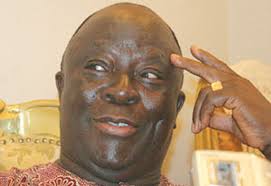 #NaijaLiveTv
Elder statesman and chieftain of Afenifere, a Yoruba socio-cultural group, Chief Ayo Adebanjo, in this interview with GBENRO ADEOYE accuses President Muhammadu Buhari of using his recent declaration on June 12 as a political gimmick ahead of 2019 presidential election
What do you think about President Muhammadu Buhari's declaration that June 12 will henceforth replace May 29 as Nigeria's Democracy Day in honour of the late Chief Moshood Abiola and conferment of the award of Grand Commander of the Federal Republic on him?
I am not excited about it; but it is better late than never. It is welcome; however, it is late and belated. I'm one of those who have always believed that when the people's government gets into office, that day will be declared. But if he (Buhari) has now done it because the presidential election is coming, well, he cannot bamboozle anybody with that. What we are saying is that if he wants to honour the memory of Abiola and June 12, he should implement what June 12 stands for, which is good governance and democracy. He should restructure the country before the elections to show his genuineness and not just be playing to the gallery. This is because all that June 12 stands for is democracy and good governance. It is not about people being killed right, left and centre and pretending that you don't know what is happening. It is not people being killed every day and after three months, you now wake up and say you are beefing up security. People have been complaining about the awkwardness of the lopsided appointments of heads of security agencies since you came into office, but it was not until now that the vice president (Prof. Yemi Osinbajo) said, "Oh yes, we are going to review it" – because election is approaching. We are no fools in this country. He should know that many of us have not got cattle brain, we are well educated and we know what we want. Nobody can come and bamboozle us because elections are coming. It is just like he said in 2015 that he was a born-again democrat. Now, he has shown us that he is a dictator. We are not moved by it. It is a welcome idea and yes, it is a thing that ought to have been done. But that he is now doing it because elections are coming, I am not excited by that at all.
So you are one of those who think it was all a political move. But why do you think so?
Of course, it is. If he knew it was something that should be done, he had been in office for three years, why is it that it was when he realised that he was ending his first term in office and requiring votes that he remembered to do it. He thinks that we are so foolish and he can say that he did something for us. As I said, we have not got cattle brains, we have got real brains.
But some people in South-West have been praising the move…
You should know those are the people with whom they have some hidden agenda and are deceiving themselves. That is the essence of democracy; we cannot all face one direction. That is the South-West for you; we are the most democratic region (in the country).
Do you think that the move will swing some votes in favour of the President in the 2019 election?
Don't deceive yourself! Do you think Yoruba people are that stupid? We are not that stupid. Quote me; if Buhari thinks he can bamboozle the Yoruba people with that, he has failed. Go and ask (Asiwaju Bola) Tinubu; Tinubu himself knows that he has burnt his boat if he continues to support Buhari on the question of restructuring. For anybody to think that he is going to do anything for us in Yorubaland now, he should restructure the country. And not that we will continue with a constitution imposed on us and you begin to harass us, keep all the security people in your hand, and use this (June 12 declaration) to bamboozle us and yet, you say you are a democrat. That time is gone. As some people have said, he can change Christmas Day to June 12, that doesn't mean that they won't get rid of him in 2019.
So if he restructures the country now, before the election, will that change your position about Buhari's government?
Yes, if he restructures the country to true federalism, I am the first champion of Buhari because it will solve the problems of the country; that is what will keep the country together. That is why I said if he is sincere about keeping this country together in peace; that is what he should do. We don't want a constitution imposed on us by a section of the country through the army. We have been saying this since 1966. That is no news! The Western Region has been declaring June 12 as Democracy Day. The states in the region have been declaring June 12 as Democracy Day since the days of the late Sani Abacha, so he has not done anything new for us. He is dealing with intelligent people.
But now, it is being declared nationally and it means that it is replacing May 29 as Democracy Day, which was not the case before.
Get what I'm saying here. I'm saying if he was sincere, he would have done it when he came into office. He is not just coming into government. He came into government three years ago, so why is he doing it now that he wants to contest for second term? And he had always known that it was the wish of the Yoruba people ever since, even before he came into government because when the South-West had an opposition government at the federal level, all the governments in the South-West were declaring June 12 as public holiday. That is a known fact. So what news is he giving them? Is he now doing this to woo us or to deceive us that he has a changed mind as he told us before that he was a born-again democrat when he wanted to contest election in 2015 and became a dictator after getting into office? These people are taking us as if we are fools.
But some people have argued that after all, some other leaders came before President Buhari and failed to do this, including a Yoruba man, Olusegun Obasanjo. What do you have to say to that?
Obasanjo is never one of us, don't bring him into this. If we regarded Obasanjo as one of us, why didn't we vote for him? We never voted for him. Even when he rigged it (presidential election), people knew he rigged it in the western region. He was also doing that to please the people of the North so that he too could continue (in office).
During former President Goodluck Jonathan's time in office, University of Lagos was renamed Moshood Abiola University and he was castigated for it. Do you think Nigerians were too harsh on him?
Yes, they were harsh on Jonathan; they should have been able to distinguish between the spirit behind the object and the object. But Abiola built his name in sports in this country. All over Africa, nobody could dispute that. What people felt then was if you were going to honour Abiola, it should not be by renaming a university after him. He was the pillar of sports, that was something that nobody could dispute all over the country. Why didn't he name National Stadium, Abuja after him? Jonathan committed an error of judgment on the subject of honouring him, but don't confuse that with the spirit that he had.
But Abiola also contributed a lot to the education sector.
I didn't say he didn't do that, I didn't say no. If for instance, you named an airport after him, that would give a national outlook. But also, he was noted for his contribution to sports. It is a matter of priority but don't confuse those who make an error in the way it was done with those who did not make any attempt. Or talk about those who will want to confuse issues and say well, after all, when a Yoruba man was there, he didn't do it. Was Obasanjo one of us? Was it not Obasanjo who said Abiola was not the messiah? Don't bring him in. Don't listen to anybody who says when your man was there, he didn't do it. Obasanjo's case is a different kettle of fish.
Just like you said of Obasanjo and Abiola, it is said that Obasanjo did not like the late Chief Obafemi Awolowo also. Why?
Go and ask him. Are you asking me? He does not like anything Yoruba which is not (about) him. Anything good in this country that is not Obasanjo is condemnable. The beginning and the end of freedom in Nigeria is Obasanjo, so anything besides that is condemnable. Go back to history see what I mean.
Some people believe that the move by the President smacked of desperation to retain power. Do you agree?
There is no doubt about that; he is just doing all these now that he has been condemned all over the country and he is thinking of what he can do? It is just like when a former military ruler, Ibrahim Babangida, appointed Ernest Shonekan as the head of Nigeria's interim government, thinking he could use that to satisfy the Yoruba people. But Yoruba people know what they want just like Nigerians know what they want. Why didn't this government do that earlier since it knew it was popular?
We have intelligent people in this country, but we are only unfortunate to have wrong people as leaders – people who have no direction and people who are clueless. The majority of the people in this country are intelligent and they know what they want. Government should do the right thing and take proper advice.
Buhari is seen as a man of integrity who is not like a typical politician but some people are saying that this move shows that he like other politicians would do anything to remain in office. Do you see it like that?
All the camouflage of integrity Buhari has was before 2015. Those of us who knew him knew that the integrity was not there. Some people who were adamant that it should be Buhari, their eyes are now clear after three years of misrule. There is no integrity left in him. A man who is getting rid of corruption and has corrupt people around him in his cabinet; a man who is getting rid of corruption and somebody in his government was said to be corrupt and suspended and he said go back to work. Abdulrasheed Maina (a former Chairman of the Presidential Task Force on Pension Reforms) was sent away and he (Buhari) asked the Attorney General of the Federation (Abubakar Malami) to bring him back and put him in office. All these are known to you! You judge people by their standard and what they do and not what they say. This country has gone beyond all that.
Before 2015 general elections, I said the greatest mistake Nigerians would make was to vote for Buhari. Go and read all the things I said at that time. It is just that people didn't listen. They were saying that anything but Jonathan. And people even said Adebanjo had received money from Jonathan. Can you see how much money I have got now?
What did people attack Afenifere, Awolowo, and the United Party of Nigeria for that we have not gone back to now? Even the restructuring that they put in their manifesto, when they realised that people were clamouring for it, they set up a committee which has not implemented it, thinking they can always deceive people. We have passed that; we are only waiting for the D-Day. If they think that all these gimmicks would work, they have missed the road.
You mentioned Tinubu earlier; I remember that he worked closely with Afenifere and knew about how important restructuring was to the organisation. Why then did he abandon it?
It was on the basis of Afenifere that he got into office. Then he thought he knew better. He made a mistake; a very serious error of judgment and I think he has not been purged of it now because he is still preaching to people to follow Buhari. He is making the greatest mistake.
Comments
comments