#NaijaLiveTv A pro-democracy group, Bayelsa Good Governance Watch, has taken a swipe at the police hierarchy over the frequent changing of the Commissioners of Police...
#NaijaLiveTv The National chairman of the All Progressives Congress (APC), Adams Oshiomhole has said that Senator Rabiu Musa Kwankwaso and all those who decamped to...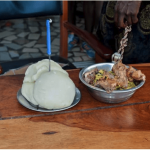 #NaijaLiveTv An Igbo man has shared photos of his birthday celebration which held yesterday. The celebrant, instead of using a regular cake, used Fufu to mark...
#NaijaLiveTv Your Greed, Selfishness, Naivete, Cowardice and Lack of Patriotism To Your Birthplace Has Made The Yorubas & Igbos A Walking Deads. Thank You. Let me...
#NaijaLiveTv President Muhammadu Buhari has returned to Nigeria after his latest vacation in the United Kingdom. President Buhari arrived at the Nnamdi Azikiwe International Airport in...
#NaijaLiveTv Music icon, Evangelist Ebenezer Obey-Fabiyi, has commended the Chairman of Globacom Limited, Dr Mike Adenuga Jr., over the Chevalier de la Legion d...
#NaijaLiveTv Michy Batshuayi has said that he is happy to wait until after the World Cup to find out whether his future lies at Chelsea...
#NaijaLiveTv The eighth penalty call at Russia 2018 almost gave Tunisia a share of the points against England at the Volgograd Arena on Monday; but...
#NaijaLiveTv Starting an exercise routine can be quite intimidating. After registering at a gym, you find yourself wondering where to start, what exercise routine would...
#NaijaLiveTv France's teenage sensation Kylian Mbappe said sleep was the last thing on his mind after Sunday's World Cup final triumph. Video: Watch HIGHLIGHTS of France...
#NaijaLiveTv Officials at Spain's tax authority have called for "reconsideration" of the deal done with Real Madrid's Cristiano Ronaldo. Earlier this week, sources told ESPN FC...
#NaijaLiveTv No fewer than 34 Nigerians were, on Wednesday, deported from the United States of America for allegedly committing offences in the country. The deportees arrived...