#NaijaLiveTv Kogi State Governor, Yahaya Bello, has asked Nigerians to support President Muhammadu Buhari who he claimed, was sent by God to liberate the nation. He...
#NaijaLiveTv .....Impeachment plot thickens As Imo State lawmakers spurn all interventions, including recent moves from top officials at the presidency and Imo stakeholders to stall their...
#NaijaLiveTv Spain beat a battling Iran 1-0 thanks to a deflected Diego Costa goal, putting them on course to qualify for the last 16 of...
#NaijaLiveTv The Governor of Ebonyi State, Engr. David Umahi on Monday revealed that many looted funds in Nigeria were stocked in foreign banks, cemeteries and...
#NaijaLiveTv Chief John Odigie-Oyegun, former National Chairman of the All Progressives Congress, APC, has refuted the report of him blaming his successor, Adams Oshiomhole for...
#NaijaLiveTv ........2019 election will be referendum on restructuring--Dickson ........am ready to face persecution and confront anti-democratic forces--Atiku Former Vice President Atiku Abubakar yesterday visited Yenagoa, the Bayelsa...
#NaijaLiveTv Basketball star and improbable North Korean envoy Dennis Rodman broke down in tears live on television Tuesday as he recounted the hostility he faced...
#NaijaLiveTv Michy Batshuayi has said that he is happy to wait until after the World Cup to find out whether his future lies at Chelsea...
#NaijaLiveTv No fewer than 100 players selected from the just concluded second edition of the Governor Seriake Dickson Football Tournament otherwise known as the Restoration...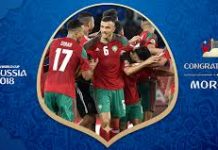 #NaijaLiveTv Morocco became the first country to take its case against officiating at the on-going World Cup to football governing body, FIFA. Morocco, which was in...
NaijaLiveTv.com His denial comes after Kathryn Mayorga told a German magazine that the footballer raped her in a Las Vegas hotel room in 2009. Cristiano Ronaldo...
#NaijaLiveTv In continuation of the ongoing sensitization on the Safe Motherhood Initiative of the Bayelsa State Government, the sensitization committee on Tuesday stormed communities in...