Ahead of next month's Presidential election, the presidential candidate of Action Democratic Party (ADP), Engr. Yabagi Sani has insisted that President Muhammadu Buhari has...
NAIJALIVETV.COM The winner of the Peoples Democratic Party Presidential Primaries and flag-bearer of the party, Alhaji Atiku Abubakar has described the election under which he...
#NaijaLiveTv The National Leader of the All Progressive Congress (APC), Asiwaju Bola Ahmed Tinubu, has said the Osun state does not have his kind of...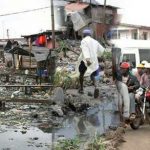 #NaijaLiveTv The Minister of Trade and Investments, Okechukwu Enelamah, on Wednesday, said the recent Brookings Report that rated Nigeria as the new global headquarters of...
Twenty-two suspected criminals made up of 17 cultists,armed robbers and police killer were earlier today paraded by the Bayelsa State Police Command at the...
The Nigerian government Friday said President Muhammadu Buhari has no familial relationship with an official that will head the collation centre for presidential elections...
#NaijaLiveTv Former Premier League referee Dermot Gallagher says the decision to give France a penalty against Croatia in Sunday's World Cup final in Moscow was...
#NaijaLiveTv Kylian Mbappe will donate money earned from featuring in the 2018 World Cup tournament in Russia to a sports charity that work with disabled...
#NaijaLiveTv Real Madrid president Florentino Perez on Thursday defended the appointment of Julen Lopetegui as coach of the 13-times European champions. However, the announcement was made...
#NaijaLiveTv Barcelona have met with Manchester United midfielder, Paul Pogba to discuss a possible transfer. According to Tuttosport, the World Cup winner reportedly met with the...
#NaijaLiveTv We were not consulted, says Lawal A member of Nigeria Football Federation (NFF) Technical Committee, former Super Eagles midfielder, Garba Lawal, says coach Genrot Rohr...
#NaijaLiveTv ...Two dead, one missing, as PDP, APC members clash... The Leadership of the Ijaw Youth Council in Brass LGA of Bayelsa state has condemned the...