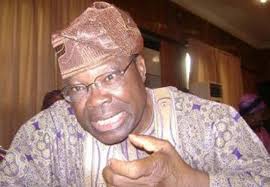 #NaijaLiveTv
A former Minister of Police Affairs, General David Jemibewon (rtd) has provided reasons President Muhammadu Buhari is allegedly not performing well.
The former Minister said Buhari finds it difficult to perform not because he is incompetent but for the fact that he does not know the people he is working with.
He further explained that the president could not function to the expection of Nigerians because the people around him do not believe in some of his policies.
Jemibewon, who spoke with The Sun, also listed former Vice President, Atiku Abubakar and Sule Lamido as better candidates for Nigeria's number one seat come 2019 presidential election.
He said, "I sympathise with Buhari because, one, he doesn't know the people he is working with.
"Two, those people he is working with don't believe in some of his major policies. It is not like the military where you follow the leader. When you talk of corruption, idea of his followers is different from his own idea.
"So, you could see the conflict under his leadership. And it is not because of his incompetence. He is a very highly competent person and incorruptible. But then, he doesn't know those who are working with him. These are some of the reasons we are not making progress.
"If PDP is to do well at all, if PDP wants to make an impact, the person I could see as having the
potential for great things to happen is former Vice President Atiku Abubakar.
"The best person under whose leadership we can hope for a better performance is Atiku. It is unfortunate that the man has been messed up. If there was no misunderstanding between Obasanjo and this man, if we had followed a systematic succession plan, this country would have been better than now.
"If PDP is given another chance, the leadership under which there can be progress and peace is under Abubakar.
"And my reasons are very clear. One, he is a gentleman. At the moment, he is the person
who can talk to some people in the East, some people in the North, some people in the West.
"Peace is very important in a country. You can't just go and bring one isolated person that is not known across the border. People need to have confidence in the leadership.
"And I think that man has the quality. He has
friends in the East, he has friends in the
West, he has friends in the North. Even though they gave him the tag of corruption, it has not been proved. He has employed thousands of Nigerians.
He has one of the best educational institutions in the country. He has been involved in every sector of the economy and the development of the country and he is comfortable. Nobody has given me any bribe to promote anybody.
"But I think if there is any hope for PDP, then they should vote that man. For me, if I am to stick out my neck today, that is the only person I have confidence in.
"Another person I have in mind is the former governor of Jigawa State, Sule Lamido. For me, the best for now is former vice president. Next to him is Sule Lamido.
"If PDP really wants to win, it has to be one of these two people. If PDP can put its acts together, the development of this country is
better achieved with PDP being in control of government."
Comments
comments