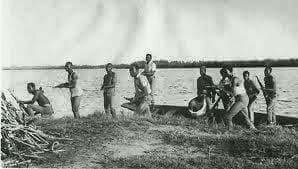 #NaijaLiveTv
Today
is exactly is exactly 50years of the death of our great leader and hero, Major Isaac Jasper Adaka Boro but his soul is yet to rest in peace.
His soul is weeping because of the prevalence of the ills he fought against. Boro fought oppression, repression, suppression, marginalization, deprivation, subjugation, exploitation and the senseless devastation, degradation and total destruction of our environment, the aquatic and wildlife, the ecosystem, the flora and fauna by those he tagged the enemies of the Ijaw Nation.
Boro fought against discrimination, dehumanization, denigration, segregation, stigmatization, total neglect, denial, rejection and other ills against our great people.
Boro died on 16th May, 1968 at Ogu near Okrika while fighting on the side of the Federal Troop during the Nigerian-Biafran Civil War to preserve, project and protect our unique identity and Ijawness.
But ironically, 50years after his mysterious death at a very young age, all the ills he fought against are still prevalent but this time around, they are not perpetrated by the Hausa/Fulanis, Yorubas and Igbos against Ijaw people but they are perpetrated by Ijaw people against Ijaw people. Today, we hear about the new slogan of "CORE IJAW AND NON-CORE IJAW".
Today, an Ijaw man who is privileged to serve in a public office instead of rendering service to our people will rather abuse his office by stealing all the monies in the office while the vast majority will be left to starve to death.
The quality of food some dogs that are owned by our privileged Ijaw brothers eat in a week can take good care of some families for a month yet our rich and wealthy brothers will prefer to feed their dogs healthy while they watch their people die of hunger.
Go to our hospitals, hundreds and thousands of Ijaw people both young and old are dying daily due to their inability to afford drugs and medical bills. Some have been treated but are held back as prisoners in hospitals due to their inability to pay for their treatments.
Young men and women are dropping out of school daily due to their inability to pay school fees.
Young men and women are roaming the streets of our towns and villages idly due to unemployment. Some are eager to acquire skills in various trades that will make them self-reliant in the absence of white-collar jobs but they do not have money to register for such very strategic trainings.
Our women including married women are going to prostitution due to hunger, starvation and frustration.
Our young men are indulging in all vices as means of survival.
The rich are getting richer while the poor are getting poorer by the day. The gap between the rich and the poor is like heaven and hell.
Our political system is not left out. Our people are plagued with the disease and syndrome called Incompetent Phobia which is the mindless and senseless imposition of incompetent stooges, surrogates and puppets who go into public office solely to protect the interests of their opportunistic godfathers at the expense and detriment of the generality of the masses.
50years after, the ghost of Boro have not rested because the average Ijaw man cannot boast of three square meals. They do not have unhindered access to education, healthcare, good roads, water, electricity, modern communication facilities, shelter (houses) and other basic social amenities and needs.
50years after, host communities to oil multinationals lack every basic social amenities while communities who do not know the colour of crude oil enjoy all the social amenities simply because they are privileged to have their sons and daughters in positions of authority.
50years after, Izon which originally meant truth now means the opposite. Elders and Leaders who are supposed to be role models and worthy Ambassadors of the Ijaw Nation now speak from both sides of their mouth. Some call white black and black white depending on what politicians in positions of authority who pay their bills want them to say. Most of our leaders have lost their consciences. Others have suddenly lost their voices in their bid to survive the prevalent economic hardship and realities.
50years after, educated, competent and very qualified young people who have all the managerial abilities, competence and exparte to reform, transform and also bring about the needed and necessary changes are relegated. They are deprived. They are not given opportunities simply because they do not have godfathers and they cannot also afford money to buy votes.
50years after, Ijaw youths are denied their rightful positions and places by our own leaders in society.
50years after, rape, sea piracy, cultism, armed robbery, assassination, drug abuse and addiction and prostitution have suddenly become the order of the day. Intellectualism have been relegated while hooliganism and criminality have assumed prominence.
Major Isaac Jasper Adaka Boro was not a criminal, he was not a cultist neither was he a drug addict.
Boro loved education. He was a School Teacher and he later joined the then prestigious and honourable Nigeria Police Force. Feeling unsatisfied with his educational level as a school Certificate holder, he proceeded to the renowned University of Nigeria, Nsukka where he read Chemistry. Boro as an outstanding Students unionist and activist contested for the President of the Students' Union Government (SUG) twice and finally won in an Igbo dominated school where he was minority of minorities.
The SUG Presidency of Boro was very remarkable and memorable. It is on record that it was Isaac Jasper Adaka Boro that introduced intra and inter-campus bus shuttle to easy the transportation difficulties that were encountered by students. The SUG equally used the bus services to generate so much money for the Students.
He was a Welfarist who emphasized the welfare and well being of great Nigerian students. Boro ensured that Students enjoyed good and quality meals.
He also ensured that students were never victimised. He built a very cordial students and lecturers relationship.
Boro abandoned his studies after the January 16th, 1966 first military coup that witnessed the killings of Sir Alhaji Abubakar Tafawa Balewa the Prime Minister of Nigeria, Sir Alhaji Ahmadu Bello the Sardauna of Sokoto and Premier of Northern region, Chief Samuel S. Akintola the Premier of Western region, Chief Festus Okotieboh the Minister of Finance and other notable military officers.
Boro and other notable Ijaw leaders saw Sir Alhaji Abubakar Tafawa Balewa as a God-sent messiah because of his pro-Ijaw stance. So when he was killed on that fateful day, Boro felt that there was no more hope for Ijaw. He felt that there was no need to continue to remain in the forced marriage that was presided over by the unordained Sir Frederick Lord Lugard in 1914.
Boro hurried assembled a group of young adventurous men and he declared the Niger Delta Republic where he presided over as the Commander-in-Chief.
The Federal Government under the headship of General Johnson Thomas Umunakwe Aguiyi-Ironsi who was the sole beneficial of the 15th January, 1966 coup that was masterminded BH Igbo military officers, acted swiftly by ordering and commanding the federal troop to fish out Boro and his men. Boro and his men fought fiercely and gallantly against the federal troop for twelve days before they were eventually overpowered and arrested. That resistance which is the first in history in Nigeria is what is today known as the famous 'TWELVE DAY REVOLUTION'.
Boro, Captain Amangala, Samuel Owonaro, Nottingham Dick and others were charged for Treason and they were sentenced to death but subsequent appeal against the kangaroo judgement led to their committal to Life Imprisonment. General Ironsi failed to look at the remote and immediate causes of the revolution. He never bothered to look at the grievances of the people of the Niger Delta and the Ijaws in particular. Unfortunately for General Ironsi and fortunately for Boro and all other oppressed and subjugated people, Ironsi was killed during the July counter coup at Ibadan that brought General Yakubu Jack Gowon to power as Military Head of State.
General Gowon granted Boro and his men Presidential Amnesty and Pardon and equally gave them a secret military training at Ikeja Military Cantonment. Thereafter, they were given logistical supports and a marching order to go and liberate the Niger Delta from the Biafra Forces during the Nigerian-Biafran avoidable Civil War.
Major Boro succeeded in this herculean assignment and responsibility but he was later betrayed by the Nigerian forces he trusted. On May 16, 1968 after a successful battle against Biafran forces at Ogu (near Okrika) in Rivers State, Boro was ambushed by what many of his men then believed was a Unit sent by Col. Adekunle aka Scorpion. In a brief and fierce battle, Afekunle's men gunned him down. His death went down in history as mysterious and as there was no conclusive evidence on who killed him.
According to Olusegun Obasanjo in his book 'MY COMMAND' Adekunle's post-war political ambition pushed him into killing Boro, as he was using the war to building a 'formidable' name for himself. Obasanjo stated that "Col. Adekunle, at this point saw the war not only in terms of crushing a rebellion, but also as a means of building himself up for any future political position or responsibility which he might wish to seek, I know of people of Western State origin who had felt politically victimized and who saw in Col. Adekunle a saviour and told him so, and he believed them".
Boro was born on 10th September, 1938 at Oloibiri in the present day Ogbia Local Government Area and he died on 16th May, 1968.
He died physical death but 50years on, the ideals and worthy legacies he represented reechoes and lingers.
Adieu Major Isaac Jasper Adaka Boro.
Most Senior Comrade Wisdom Oniekpar Ikuli
Executive Director
Centre for Peace Advocacy & Social Rehabilitation
Former National Director of Mobilization & Chairman, Action Committee IJAW YOUTH COUNCIL (IYC) WORLDWIDE
Comments
comments