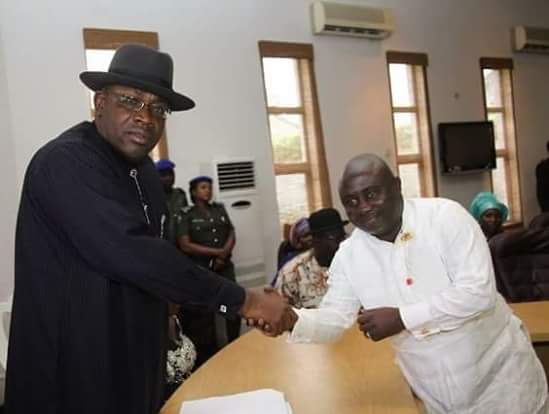 The immediate past Chairman of Southern Ijaw Local Government Area and foremost Ijaw Leader Hon. Joshua Maciver has asked the Governor of Bayelsa State Gov. Henry Seriake Dickson to stop putting the Nigerian Navy in cross roads against him.
Addressing newsmen at his dredging site at Oxbow lake in Yenagoa, Hon. Joshua said that the Governor gave out his One Hundred and Eighty (180) Plots which is about 8.3 Hectares of land at Oxbow lake in Yenagoa to the Nigerian Navy without consulting him.
Hon. Joshua MacIver went on to say that the Governor should leave him alone and not to create a problem between him and the Nigerian Navy.
He said "As I speak, sand I dredged and kept in my site on the said land is being packed by men of the Nigerian Navy and is unacceptable to me" he went to say "This is an oppression of the highest order by the Governor and I will never accept it". He also said "I don't want to be seen as a person who takes laws into my hands hence this public request to the Governor"
He finally said the Governor should reverse the decision immediately and the Nigerian Navy should steer clear his property or be prepared to face his legal team in court.
Comments
comments