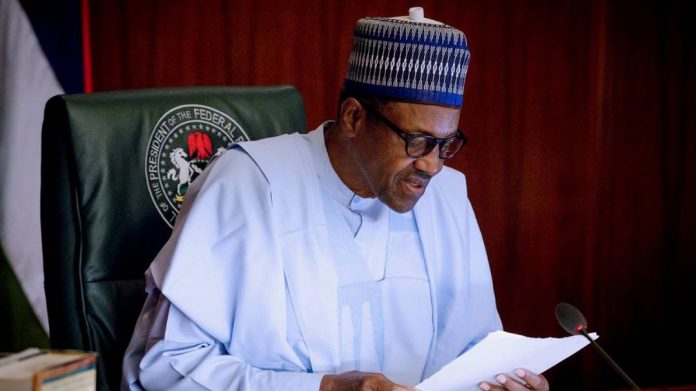 #NaijaLiveTv
President Muhammadu Buhari on Wednesday gave approval for the appointments of 12 justices of the Court of Appeal, nine for the Federal High Court and seven for the Court of the Federal Capital Territory.
Mr Soji Oye, the Director of Information for the National Judicial Council (NJC) stated this in a statement in Abuja.
He said the president's approval followed a recommendation by the Council for the judicial officers to be elevated to their new positions.
He listed the 12 justices approved for the Court of Appeal to include P. A. Mahmud, F. O. Ojo, I. A. Andenyangsto, G. O. Kolawole, B. B. Aliyu, and Ebiowei Tobi.
The others are J. G. Abundaga, A. S. Umar, A. M. Talba, A. M. Bayer, A. M. Lamido, and M. B. Idris
Oye said the nine approved judges for the Federal High Court were Bassey Onu, Mrs Adekemi Demi-Ajayi, Peter Lifu, Obiora Egwuata and Mrs Sa'adatu Ibrahim- Mark
He gave the names of others to include Mobolaji Olajuwon, Aminu Aliyu, Tijjani Ringim and Nkeonye Maha.
The NJC Director of Information said the seven judges approved for the FCT court included Binta Mohammed, Modupe Osho-Adebiyi, Gaba Venchak Simon, Babangida Hassan, Akobi Anna, Samirah Bature as well as Asmau Yusuf.
Oye said while the Justices of the Court of Appeal would be sworn-in by the Chief Justice of Nigeria, Justice Watlter Onnoghen on June 22, their counterparts at the Federal High Court would take their turns on June 25.
He said the CJN would complete the exercise by swearing-in the approved judges for FCT court on June 26.
Oye said swearing-in ceremonies would all be conducted at the Main Hall of the Court Room of the Supreme Court at 2:pm prompt on the allotted dates.
Comments
comments