YENAGOA – Convener of the PDP Alliance for Democracy in Bayelsa State, Ekiye Akposeye, has expressed worry of former Governor of Bayelsa State and Senator representing Bayelsa West Senatorial zone, Senator Henry Seriake Dickson's silence about the imminent November 11th Guber race.
Mr Akposeye, in a message to the Press Stated 'Former Gov. Dickson is who we look up to for directives in the party, but he has been mute and has neither attended political functions in favour of our party'
'His public endorsement of Senator Douye Diri will do a lot in assuaging the fears of our people and party faithuls and it will boost morale'
'At this point there is a lot of rumour that Dickson is indifferent, as a party, that is not a good position to be. We need Dickson and his public support'
The PDP Alliance for Democracy also formally called on the "Former Governor to fight hard for Diri as he did in 2019, stressing that only 100% support from him can ensure victory".
MEANWHILE, Some stakeholders within the corridors of Power in the state further lamented that the grievance between the two leaders is unconnected with the way and manners the former Governor Dickson was treated during the burial ceremony of Pa Abraham Michael Joseph Diri, Father of the Governor of Bayelsa.
According to reliable security sources, during the burial ceremony of the late father of Governor Douye Diri, his political godfather and Boss (Sen. Seriake Dickson) was not duely recognize by the Protocol. Source lamented that the seating arrangement was not properly organized to include the Former Bayelsa Governor.
It was gathered that the former Governor and Senator representing Bayelsa west Senatorial districts, Senator Seriake Dickson was sent to the back seat on arrival to the venue, instead of reserving his seat at the front row with other dignitaries like Goodluck Jonathan, Olusegun Obasanjo, Yemi Osinbajo, Peter Obi, Atiku Abubakar, PDP Vice Presidential candidate, Okowa and other high profile dignitaries who were in attendance.
See front row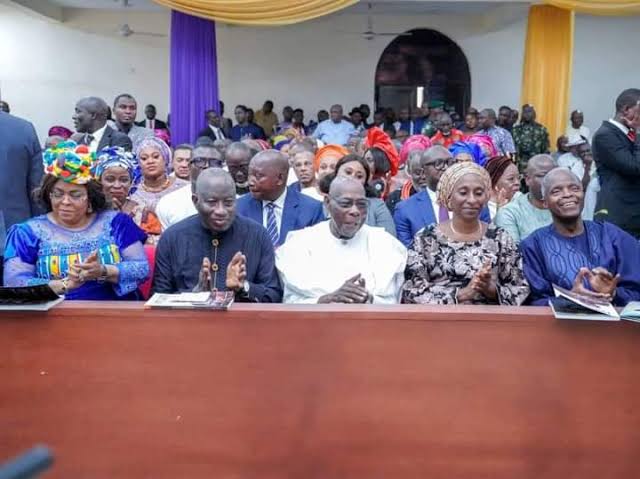 Comments
comments