The newly sworn-in member representing Yenagoa Constituency 1 in the Bayelsa State House of Assembly, Hon. Ayibanegiyefa Egba, appears to have jeopardized her legislative position for providing false information to the Independent National Electoral Commission (INEC), a situation which means she lied on oath before the Nigerian Court and amounts to her disqualification to contest which may eventually deny her and her party of victory and ultimately remove her from the House of Assembly.
Facts gathered by NAIJA LIVE TV, revealed that Hon. Egba, who is representing the Peoples Democratic Party (PDP), during her continuation of her defence before the National and State Assembly Election Petition Tribunal of Bayelsa State sitting in Yenagoa she claimed that she resigned from the civil service to contest the election whereas the document she attached to the INEC is an application for retirement.
NAIJA LIVE TV also learnt that she filled in her INEC form EC9( affidavit of personal particulars) and sworn on oath , declaring on that she has Masters in Logistics whereas she does not have such certificate, meanwhile during cross examination she admitted that she doesn't have such certificate, an act which means she lied on oath before a noble court of the land.
NAIJA LIVE TV through impeccable sources also gathered that she is bearing multiple names in her documents attached to INEC without any affidavit of correction of name, newspaper publication or deed poll to cover the different names which amount to forgery.
Other false information she was parading that our sources also gathered are that her first school leaving certificate in 1980 bears Ayibanengiefa Egba, her SSC in 1995 bears Ayibanengiefa Frank Egba, her Local Government Identification in 1998 bears Ayibanengiefa F. Egba, her Age Declaration in 1998 bears Ayibanengiefa Frank Egba, Bachelor of Arts bears Ayibanengiyefa Egba, while her NYSC Exemption in 2013 bears Egba Ayibanegiyela without any legal documents to reconcile the multiple names, an act which amount forgery.
Our correspondent who monitored her under cross examination in court reported that she answered the following:
"Q. Do u have an MA in logistics as a higher degree
Ans – No. But I have MA in linguistics
Q. In accordance with the times tables released by inec your party PDP sold form around April 20 , 2022
Ans- I can't remember
Q. I put it to you that you bought your form on the 13 of April 2022 and submitted on the 22nd of April 2022. I put it to you that you made a Facebook post on the day you bought your form.
Ans- Yes but it could be that day or other day
Q Do u have anything in this court to show that you made effort correct your names.
Ans- No.
Q. Your late uncle or father West is he the same person who depose to your age declaration.
Ans – Yes.
Q. Do you have any further affidavit you submitted to Inec other than your form EC9.
Ans-No
Q. Did you retire or you resign from your last employment.
Ans. I retire and submitted the letter of retirement to my party."
It would be recalled that Ogbara Benjamin Somezeme, the candidate of All Progressives Congress (APC) who contested the election and scored the second highest vote alongside his party, APC filed a petition in the tribunal challenging the eligibility of the candidature of Ayibanegiyefa Egba and PDP on account of perjury, forgery and bearing multiple names without any explanation amongst other grounds in the petition.
Earlier, the petitioner has on the on the 13th of June 2023 where he testified and gave evidence that Ayibanegiyefa Egba presented false information to INEC in her affidavit of personal particulars and Ogbara applied to INEC for a certified true copies of the said documents and tendered all the documents to the Tribunal which was admitted.
It should be noted that Sections 134 -136 of the Electoral Act, 2022 and particularly section 136(2) of the Electoral Act, has specifically provided that where an Election Tribunal or court nullifies an election on the ground that the person who obtained the highest votes at the election was not qualified to contest the election, the Election Tribunal or Court shall declare the person with the second highest number of valid votes cast at the election who satisfied the requirements of the constitution and the Electoral Act as duly elected.
SEE OTHER DOCUMENTS BELOW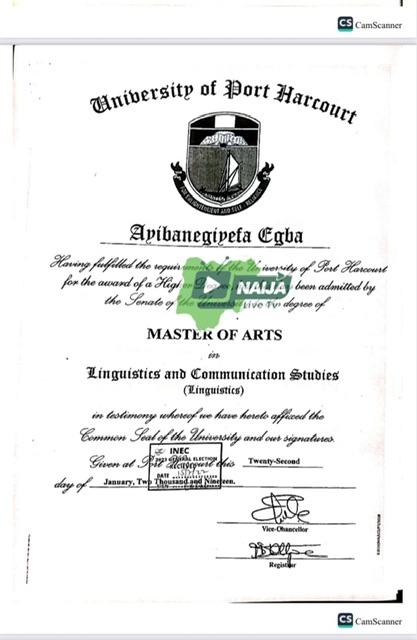 Comments
comments