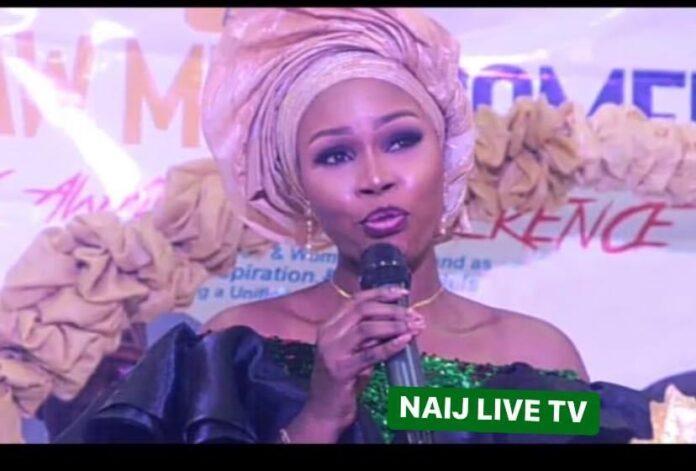 Candidate for the All People's Party (APP) for the forthcoming Bayelsa Governorship elections, Kemelayefa Mercy Ogege, says discrediting a candidate by age and gender without looking at antecedents and capacity is disgusting.
The President Ijaw Women Of Substance, Worldwide, expressed displeasure on seeing youths as people who are only fit for P.A and Media Aide Positions and government making the system difficult for youths to seek elective positions.
While telling her opposers, in a post, not to judge a book by its cover, the APP Candidate said she has committed her time, resources and energy into giving back to Bayelsa state and the Niger Delta at large using her personal resources as a private individual since age 21.
She therefore urged Bayelsans to choose wisely and urge all parents to support her ambition, pointing that the future of Bayelsa is in the hands of Bayelsans.
"It is wrong to stereotype a candidate because she's a woman and young. Not everyone goes into politics for selfish gain.
"It is very disheartening that people will think the same persons who has defrauded, raped Bayelsa state, empoverished the people, kept the state in shallow backwardness, who has been given opportunities to serve and failed woefully are more of a qualified candidate than a young girl who from age 21 has committed her time, resources and energy into giving back to Bayelsa state and the Niger Delta at large.
"Just because I'm the youngest doesn't make me unqualified. It's disgusting to think some persons will discredit a candidate by her age and gender without looking at her antecedents and capacity. Mind you, capacity is not rated by ones Bank Account, but the ability to carryout certain responsibilities effectively.
"I want to know why political offices are tied to old-age and frialing looks?
Why must our youths be given only P.A.'s and Media Aides Positions?
"Some political parties Presidential Forms are sold for 100 million, some 80, 60 and 40. Tell me, how many Youths can afford that? Governorship forms goes for 20 million, some 15 and 10million, while State House of Assembly Forms are sold for 2.5 million
"They have made even the system and structures fights the possibilities of youths seeking elective positions. How many Youths with potentials can raise such amount to purchase party nomination forms?
"This is very sad and pathetic
These are the systems and structures Youths should revolt against
This is what I have been fighting against. My race is not only to serve Bayelsans but to also Inspire the average youth and the Girl Child.
'My dear Bayelsans, let's not be deceived again by the same set of persons who are responsible for the pitiable state we find our dear Bayelsa state.
"Can someone name one government appointee whether S.As or commissioners with evidence that has affected the lives of bayelsans with all the allocations funding their offices?
"Please show me with pictures which government appointee has used his own personal resources to develop Bayelsa state the way I have used my personal resources to do my bit as a private individual. And some still ask, she's just a child, what can she offer?
"Any leader or youth who thinks l'm too young to run for governor is one of the problems of the state. If you say I am too young, then you are saying, your child that you sent to school, paid school fees and expected to come back and make you proud is a waste of time and that child is a failed project.
"You are indirectly saying Bayelsa graduates above age 34 are better off on the streets or serve you as PAs, Media Aides or drivers. If you discriminate me, you discriminate every Bayelsa youth.
"I represent the child you paid school fees for, yes, l am that your child who did very well in school with capacity to be a leader and is saying "Daddy and mummy, I need your blessings for the task ahead." Will you because that child is 35years old, say he or she is too young to run for Governor? Will you deprive that child because she's a woman?
"If you are a parent and you fight against my candidacy, l want you to know you are indirectly fighting the Dreams, Ambitions, visions, Potentials, Goals and Capacity of your child.
"Don't judge a book by its cover, put me on that stand with all the Governorship Candidate, let's all be given fair chances to present their manifesto and tell bayelsans why we should be given the privilege to serve in that capacity. I'm ready For Bayelsa State Governorship Debate. Bayelsans deserve to hear also from the only female Governorship Candidate
I, Kemelayefa Mercy Ogege, l'm fully prepared.
"Bayelsans, choose wisely. No more political business men in power
No more Recycling of bad eggs
Bayelsans, before you listen to what any candidate says he can do, first check what he has done, what he's been doing, before what he says he will do.
"The future of Bayelsans is in the hands of Bayelsans. Put me on that Governorship Debate stand with our leaders, let's all present our Manifestos," it read.
Comments
comments