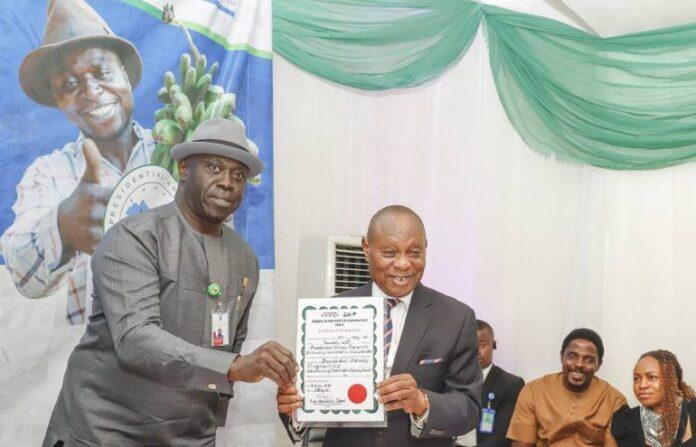 The Presidential Amnesty Programme (PAP) on Wednesday launched a cooperative scheme aimed at empowering the over 30,000 ex-agitators in the Niger Delta region for them to become entrepreneurs and self-reliant.
Interim Administrator of PAP, Major-General Barry Indiomu, speaking at the official launch of the Presidential Amnesty Programme (Beneficiaries) Cooperative Society Limited (PAPCOSOL) in Abuja, said the new scheme was designed to discourage reliance on the N65,000 monthly stipend paid to ex-agitators, which he noted was no longer sustainable.
The Supreme Court Justice, Francis Tabai (rtd.) was appointed as the Chairman Advisory Board of PAPCOSOL.
The founding of the Presidential Amnesty Programme in 2009 by the then Government of late President Umaru Musa Yar'Adua was based on the need to restore stability to communities in the Niger Delta where protest activity had degenerated into endemic crisis.
The Presidential Amnesty boss, further disclosed that apart from the initial take-off grant of N1.5 billion for the scheme, already deposited in a designated bank, PAP would be providing about N500 million every other month to support PAPCOSOL.
Indiomu, however, said over the years, PAP, has implemented various reintegration initiatives broadly built around training and empowerment/employment of its listed beneficiaries but with less than stellar results.
He said this led many to question the Programme design and management, despite the best efforts of previous administrations, saying this continued dependence of beneficiaries on monthly stipends has only served to underscore these widely held assertions.
"This has given cause for new thinking that would better position PAP to more surely achieve its reintegration mandate.
"The Presidential Amnesty Program (Beneficiaries) Cooperative Society Limited (PAPCOSOL) is envisioned to transform ex-agitators and other young persons in the Niger Delta region into active entrepreneurs who would contribute to the economic growth of the region, through the provision of innovative products and services, effective collaboration, and partnerships.
"The scheme is the brain child of the current Interim Administrator and is considered the most practical approach to ensuring the sustainable reintegration of PAP ex-agitators.
"The whole idea is to discourage reliance on the stipend which you will all agree with me will introduce the culture of dependency and indolent, which is not the best in our interest.
"So, we have decided that rather than giving them fish, it is better to teach them how to fish, so that they can become entrepreneurs with the funds made available to them, which they can access easily since they themselves will be the managers.
"The total number of agitators captured initially was about 30,000. That number has dropped significantly over the years. But we are looking at about that number or even much more as we continue to improve on the funding," he stated.
Comments
comments