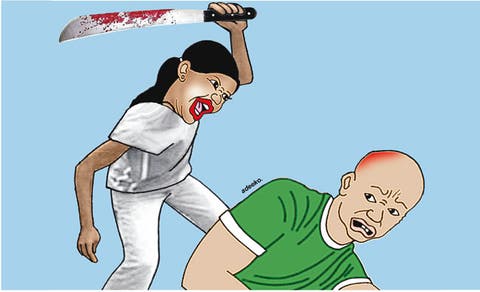 …I've vowed he would pay for abandoning me for another woman – Wife
Ile Tuntun Customary Court, Mapo, Ibadan, Oyo State, recently put to an end the one-and a half-year-old relationship between a couple, Toheeb Safiu and Fatimo Safiu, on accounts of constant fight and violence.
According to the plaintiff, he and the defendant lived like cat and mouse adding that she would kill him if he spent a minute longer with her under the same roof.
Fatimo, who gave her consent to divorce, stated that Toheeb misplaced the trust she had in him when he abandoned her for another woman. He added that he was a brute and in the habit of beating her always.
Toheeb explained that he impregnated Fatimo "while we were dating but before then, another lady whom I previously dated claimed she was carrying my baby.
"I refused responsibility of the other lady's pregnancy, but my parents accepted it.
"I took Fatimo home to introduce to my parents, but they denied us audience. They insisted I would not marry her unless I claim responsibility of the other pregnancy and marry the lady.
"I tried to make them understand I couldn't cope with two wives looking at my meager salary but they refused to see reason with me.
"I went along with my plan to marry Fatimo, but a few months into our marriage, it became clear that I had made the greatest mistake in my life.
"I started noticing a change in Fatimo's behaviour after she put to bed.
"She easily became irritated and suddenly became cold and unaccommodating.
"Fatimo turned our home to a battle ground. She picked up a fight at every given opportunity and would refuse that I had rest. I always dread going home after working hours.
"I endured all her short comings because I loved her, but our relationship gradually degenerated as Fatimo went from being troublesome to being violent.
"She once fought me in the middle of the night and chased me out of the house with a cutlass. I ran for my dear life. This was around 12:00 pm.
"I would have been a dead man by now but for the night guard watching over our area who came to my rescue.
"This man did all he could to placate my wife but she refused to be appeased. She insisted I was not going to sleep in the house.
"Fatimo like a mad woman went for a bottle, broke it and attempted to stab me with it. Both the night guard and I took to our heels.
"My lord, I slept at our landlord's apartment that night.
"I called Fatimo's parents early the next day. They came to pack some of her belongings and took her away.
"I learnt she went to fight my mother in her shop and later came back to my place after I had left for work. She attempted to break down the door to our apartment, but was restrained by our landlord.
"Our differences were later resolved and she moved back to my house.
"My lord, Fatimo became worse. She refused that peace reign in our home. I decided spending the night in the office because I was fed up with her fight.
"I rushed home one of the mornings to bathe and change my dress. I sneaked in to avoid waking her up so as to avert another fight, but unfortunately for me she woke up and locked the door. She insisted I was not going to leave for work.
"She accused me of sleeping at the other lady's house.
"I got frustrated and we ended up in a brawl.
"Fatimo broke down our door and destroyed my property. She insisted I must never have anything to do with this other lady.
"My lord, I'm too young to die. Fatimo she will send me to my early grave if you don't dissolve our marriage," the plaintiff said.
"My lord, Toheeb is a liar. He set my mind at rest when he told me the other woman's pregnancy did not belong to him.
"His parents refused that he got married to me but they gave in when he insisted it was me or no other.
"I gave myself to our marriage for it to work. I made a lot of sacrifices because I desired a blissful wedlock, but Toheeb disappointed me.
"I never knew that he went back to this lady he had promised never to having anything to do with.
"He abandoned me and started sleeping at her place. He took to beating me any time he returned home.
"My lord, Toheeb misplaced the trust I had in him. I have vowed he would pay dearly for treating me ruthlessly," she concluded.
Giving his judgment, the court president, Chief Olasunkanmi Agbaje dissolved their wedlock and granted custody of their only child to the defendant.
The plaintiff was ordered to give the defendant N3, 000 to pack her belongings from his house.
He was further instructed to give her N4,000 every month as their child's feeding allowance and another N12,000 as one year rent for a new accommodation.
Both were advised to maintain peace.
Comments
comments