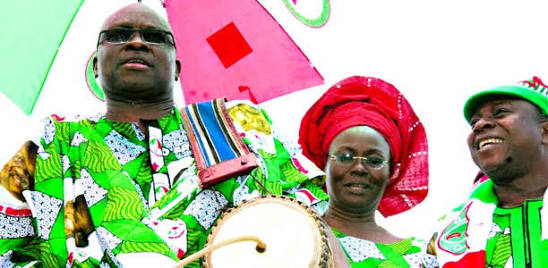 #NaijaLiveTv
The Peoples Democratic Party (PDP) says nobody can rig the July 14, 2018 Ekiti governorship election, despite the machination by the All Progressives Congress (APC) working with some compromised Independent National Electoral Commission (INEC) officials and security agencies.
PDP restates that the will of the people is stronger than the machinations of evil-minded persons, who are toying with the determination of the people for a free and fair electioneering.
The party warns that INEC officials working with agents of the APC to compromise the process are brazenly risking the legitimate wrath of the people of Ekiti State in their iron-cast resolve to ensure that nobody subverts their will in this election.
The people of Ekiti state are already aware of the clandestine meetings between known INEC officials and APC agents, including those held at the Ondo state Government House, Akure, where plots were hatched to use INEC's ICT Department to preload card readers and input false results, as well as cloning unclaimed Permanent Voter Cards (PVC) to superimpose pictures of their members from other states.
The PDP cautions these compromised INEC officers, their allies in the APC and those they planned to import from other states, to note that their tracks and footprints are all bare and that the people of Ekiti state are already at alert and ready to stop them on their trails with every potency available to them under the law.
What the APC and their cohorts in INEC fail to note is that Ekiti is a contiguous state where every indigene and residents know and can identify one another other as individuals and families and that as such there is no way in which strangers imported from other states can be allowed to sneak in and participate in their election.
Let it be known to all that the PDP is fully mobilized for the July 14 election. The people of Ekiti state are fully rallied to vigilance at every polling unit, every collation center as well as every exit and entry points in their respective areas across the state to ensure that nobody subverts their collective will.
We restate the fact, clearly known both to INEC and the APC, that Ekiti state is a stronghold of the PDP and that the people are solidly behind the PDP, particularly due to the sterling performance of Governor Ayo Fayose in developing the state in all spheres of live.
The APC and their rejected candidate should therefore end their desperation to forcefully take over the state as no amount of machination, intimidation, threats or even arrests and detention can subjugate the people of Ekiti state, on any score, let alone, on their governorship election.
Comments
comments