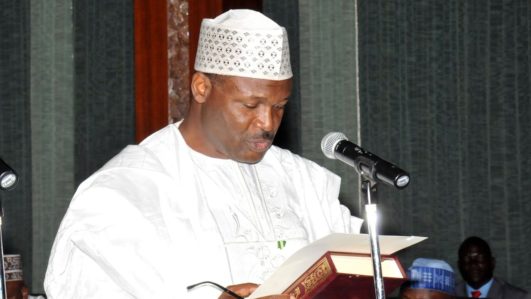 #NaijaLiveTv
……EU, lreland to ensure free, fair, peaceful polls
Chairman of the Independent National Electoral Commission (INEC), Professor Mahmud Yakubu, yesterday said continued participatory engagement of the Nigerian electorate was the solution to successful elections next year.He made the assertion in his keynote address during a Youth Vote Campus Outreach at the University of Lagos, organised by INEC in collaboration with the European Union (EU) under the European Support for Democratic Governance in Nigeria (EU-SDGN) project.
He said continuous participatory engagement was the antidote to a successful electioneering process, adding that INEC had recorded 9.7 million newly registered voters in the country, even as a larger number of them were youths.
Citing the recently signed Not-Too-Young-To-Run Bill, he urged students who were yet to get their permanent voter cards (PVCs) to do so at the registration centres on campus.He said youths were vital to electoral process, as he vowed that INEC was committed to conducting free and fair elections in 2019.
Responding, Head of the EU delegation to Nigeria and the Economic Community of West African States (ECOWAS), Ketil Karlsen, stressed that the EU was committed to electoral processes in Nigeria.
"Since 1999, EU has provided over 100 million Euros for electoral processes in Nigeria. The EU provides support to INEC, civil societies and the country through the provision of electoral observers," he stated.He affirmed EU's commitment, saying that the union was ready and willing to have extra missions in Nigeria before the primaries.
The outreach, with the theme: Youth Votes Count, was aimed at sensitising youths on the need to participate in elections by getting their PVCs and actually participating in the voting process.
Meanwhile, the European Union (EU) and the Republic of Ireland have promised to support a peaceful, free and fair poll in Nigeria.Irish Ambassador to Nigeria, Sean Hoy, gave the assurances yesterday at Government House, Yenagoa, Bayelsa State, when he and other Irish diplomats paid a courtesy visit to the Deputy Governor, Rear Admiral John Jonah (rtd.)
Hoy, who is also the ambassador to Ghana, Senegal and Cote D'Ivoire, emphasised the role of the federal and state governments, as well as faith-based organisations in sensitising the people to the need for peace and security of lives and property.Jonah, who lamented the security situation in the country, urged the EU to assist Nigeria resolve its security challenges.
Comments
comments