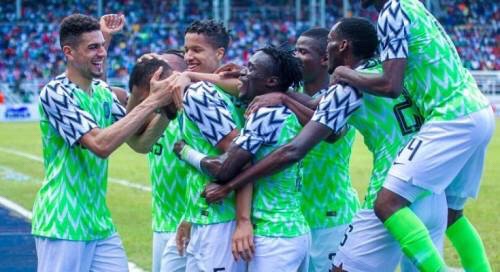 When the Super Eagles of Nigeria kick off their World Cup journey against Croatia at 8pm Nigerian time on Saturday, a lot of Nigerians will be waiting to see if it will be a performance worthy of pretenders or of contenders.
Public expectation of the Super Eagles has been a see-saw affair: it soared to the highest after the Eagles outsmarted Argentina 4-2 in November 2017 but dimmed after consecutive poor showings at friendly matches, only to skyrocket again when mystic pig Marcos picked Nigeria among the four countries that will play in the semis.
So, can Nigeria reach the semis? Absolutely! And these are the reasons.
Friendlies Inversely Proportional To Eagles' Performance
Whenever the Eagles perform well in friendlies, they seem to underwhelm at the tournament proper. In terms of results, Nigeria's best World Cup preparation was in 2002. After drawing 1-1 in a friendly with the Netherlands, the Super Eales beat Scotland 2-1, pipped Jamaica 1-0, thrashed Kenya 3-0. But what happened at the tournament proper? We scored only one goal in three games while conceding three, consequently crashing out in last place in a group containing Sweden, Argentina and England.
Meanwhile, in 1994, where we had our best showing till date — we were two minutes away from beating eventual finalists Italy in the Round of 16 — the friendly results were discouraging: a 1-0 loss to Colombia, 3-1 loss to Sweden, another 2-0 loss to Romania. The only bright result was a 5-1 defeat of minnows Georgia.
Now, that Eagles' pre-2018 World Cup friendly results were shambolic, expect a spectacular performance that could see us reach at least the Round of 16 or even the semi-final.
Our Talisman Is Fit!
When Nigeria crashed out in the group stage at South Africa 2010, Yakubu Aiyegbeni was fingered as the chief culprit, and deservedly so: he missed a platter-of-gold sitter in the decider against South Korea that led to the local coinage of the term 'He Yakubued it' to mean someone, even if not in football, wasted a massive chance. However, the truth is that had Mikel Obi not suffered that long-term knee injury pre-tournament, Nigeria would 100% have made it out of the group. Well, Mikel may be slowly ageing but we saw what misery an ageing Cristiano Ronaldo inflicted on Spain on Friday. So, if Mikel manages to avoid injury throughout the tournament, yes we can reach the semis.
No Complacency
Unlike in previous World Cup tournaments, such as the 1998 edition, there is no chance of complacency in this team. Gernot Rohr's side are the youngest side at the global fiesta, with an average age of 25.9; these guys are all full of ambition, knowing how their careers can rise even further with a semi-final run. This team will play with explosiveness rather than complacency, which can only be good for the team's fortunes.
We Have A Really Good Coach
Let's forget the friendly matches for a moment; Gernot Rohr has performed some magic with this team. This was the first time ever that we qualified for the World Cup without ever having to punch the calculator for once — we even did it with a game to spare! Now, under a tournament circumstance, expect Rohr to work out the same magic. These Eagles will soar.
Some Players Have A Lot To Prove
It's the first time in a long period that erstwhile regular starters have found themselves on the World Cup bench. Now they have a lot to prove. Ahmed Musa and Ogenyi Onazi are examples. Both started the first World Cup qualifying against Zambia in Lusaka; both will be on the bench on Saturday night, and they will come on in the second half seeking to reclaim their first-eleven shirts. Same goes for Ahmed Musa and Elderson Echiejile. Add late bloomer Simeon Nwankwo to the mix of hungry talent on the bench and it's clear these Eagles can fly; and who knows, it may just happen that their wings will be impossible to clip until the semis!
Comments
comments