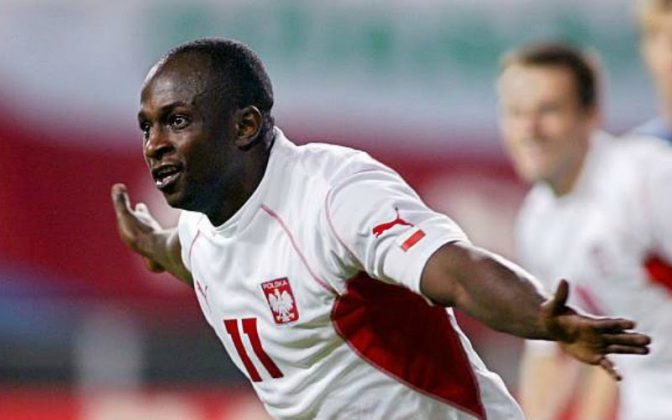 #NaijaLiveTv
Nigerian-born striker Emmanuel Olisadebe's eight goal propelled Poland to the 2002 World Cup. He tells 'TANA AIYEJINA about his experience playing for the European nation at the Mundial
Helping Poland qualify
The World Cup is the biggest stage in football. So, it was a great experience, I loved every minute of it and helping Poland qualify after 16 years was a big deal in Poland. Although we didn't do well as people expected, it's an experience I'll never forget.
Nigeria snub
People keep asking me why I played for Poland instead of Nigeria. But from what I know, I was never called up to the Nigerian national team, so I didn't have an option to choose either Nigeria or Poland. So, it wasn't a difficult choice to make when the Polish national team invited me to play for them. If I had a call-up from Nigeria, maybe it would have been more difficult. But since it didn't come, it was very easy choosing Poland.
W'Cup momentum
The World Cup is undoubtedly the biggest football event in the world; the coverage it gets, everybody is involved, presidents of each country is involved, the FAs, the build-up to the games. Everyone wants to see their national teams succeed. I haven't played a bigger tournament than the World Cup. Even playing in the Champions League is nothing close to the World Cup; the coverage it gets from around the world shows how big the World Cup is.
Scoring at Korea/Japan
I got a goal in our third game, we had already lost the first two games and I was really disappointed. I didn't feel like playing the third game but my coach encouraged me to play. And luckily for me, I got the fastest goal at the World Cup, which was later beaten by Hakan Sukur, a Turkish player. I feel like accomplishing something because I would have really felt bad going to the World Cup as a striker without scoring. Although we didn't qualify for the next round, I was happy with myself.
Playing against Nigeria
I wasn't really thinking about playing against Nigeria but it would have been a great experience. I don't know how I would have taken it but it would have been nice to play and maybe score against Nigeria. Maybe I would have been more famous to the Nigerian fans but since it didn't happen, no problem.
Good/bad times
The good time was just being there, experiencing the World Cup and I would say the bad situation was our preparation, I didn't think we had a good preparation before the World Cup. We had a lot of problems in camp with the senior players. We had some players who played the qualification games for the World Cup but a few weeks before the competition, they were dropped. So, there was too much tension in camp, we had some problems with the media, we were very much distracted. And that showed in our performances in our first and second games. The coach changed the whole line-up, about eight players for the third game and we won against the United States and everybody was thinking if we had gone with this team, we would have gone far. It was really sad for me because being the first team in Europe to qualify, and me being the top scorer, everybody was expecting a lot from me at the World Cup but I couldn't perform optimally because of all the things that happened in camp. For me, it was a really bad experience.
Memories
I feel proud of myself. At least everywhere I go, people who remember always say, 'Emmanuel, you played for Poland, a European country.' So, it's something I would never forget, it was a great accomplishment for me in my career, that after everything I played at the World Cup and for a European team. So, I feel very proud achieving that.
Polish fans reaction
They were not happy with us when we returned from the World Cp; some fans were waiting for us with objects to throw at us but somehow the security at the airport had to take the whole team out through the backdoor. We got to our various destinations through the backdoor. It's not an experience I would always like to remember but that's the truth
Comments
comments