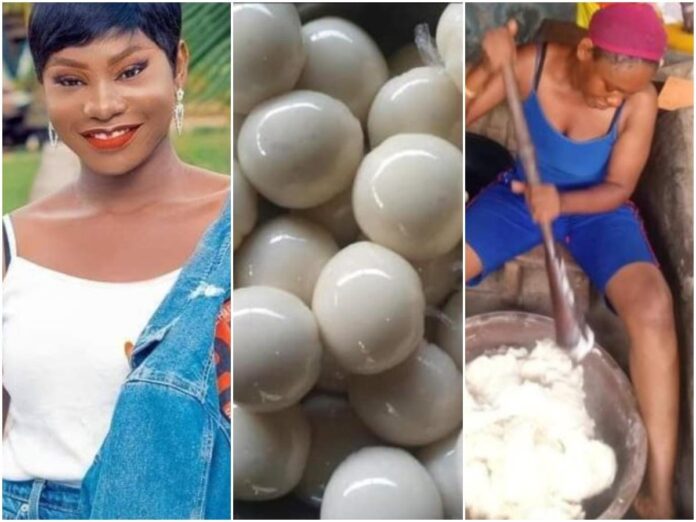 A 29-year-old Ebitonye Michael who sells fufu after bagging her first degree from Niger Delta University, Ammasoma (NDU) has urged youths not to wait for jobs but create them.
According to the single mother of one, who hails from Biogbolo-Epie in Yenagoa Local Government Area of Bayelsa State, said she was influenced to go into the business by her mom.
"Many people believe selling fufu is a business meant exclusively for old women. They also think it makes one dirty and smelly. But what many do not know is that selling fufu could be lucrative.
My mother who's a farmer trained all her children how to prepare fufu and built her two houses with proceeds from her fufu business.
When I finished my NYSC, I was teaching and earning 20,000 naira at the end of the month. The money is normally budgeted even before it comes.
My mom then advised me to also sell fufu since I know how to process it. So I agreed with her idea," she said.
Miss Ebitonye noted that she is not bothered about the negative comments directed at her business, because it foots her bills.
"People talk down on my fufu business a lot, but I don't allow that to bother me as long as it's giving me cool cash and I'm not begging. Am okay! I also learn to keep myself clean after processing my fufu."
She stated that she dreams to own a "fufu processing industry" that will employ people. But will not decline a job offer, which she hopes to do side by side with her fufu business.
According to her, the only challenge she is currently facing in her business is her inability to get a fufu processing machine.
She, however, advised unemployed graduates not to "wait for employment" but learn to create one for themselves. "
Comments
comments