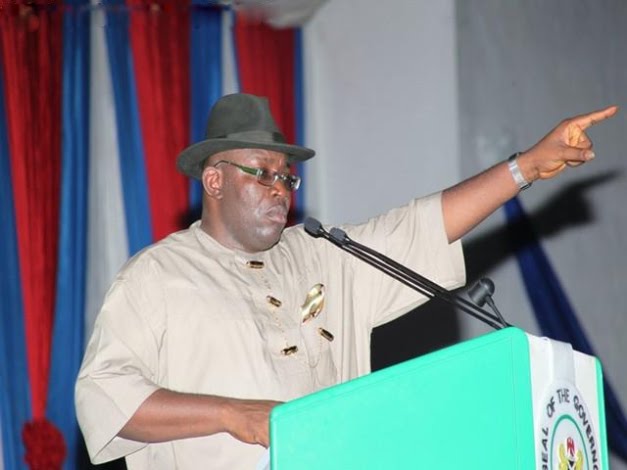 #NaijaLiveTv
Governor Seriake Dickson of Bayelsa State has ordered the arrest of an official of a local government for collecting the salaries of 300 persons every month, the Commissioner for Information and Orientation, Daniel Iworiso-Markson, has revealed.
Iworiso-Markson made the revelation on Monday during the commencement of a town hall meeting on civil service reforms in the Yenagoa Local Government Area of the state.
The commissioner, who did not give the name of the errant official, hinted that the suspect is an Account Officer in a council in Bayelsa Central Senatorial District of the state.
Iworiso-Markson, who said the suspect was unmasked during staff verification in the LGA, noted that cumulatively the fraudulent officer was illicitly earning hundreds of millions of naira per annum.
He stated, "Recently, Governor Seriake Dickson had to order the arrest of an official of a council. He (the official) was collecting salaries of 300 people. Yearly, the officer fraudulently receives hundreds of millions of naira.
"That is in just one LGA and there are many places like that in the state. Some people are employed in the civil service today, yet there is no document in their files. Instead, they were employed with the affidavit. The same people who do not have any documents and qualifications are collecting salaries of Grade Level 14 workers and above.
"At the Bayelsa State Transport Company, you find a situation whereby you have about 180 drivers, but there are only five or six vehicles for them to drive. You can see the level of rot in the system. So, if we must be sincere to ourselves, we must all agree to join hands with the government to clean the mess in the system."
Iworiso-Markson reiterated that the reform had come to stay, insisting that the people of Bayelsa must collectively redeem the state from collapse.
He said though people were averse to reforms everywhere, the government had found out that reform in the state was imperative if the state must be accorded its respect among the comity of states in the nation.
The commissioner added, "Today, everywhere you go now, people talk of Bayelsa as a model. All these are because of the bold steps the Seriake Dickson-led administration has taken to redeem the state from payroll fraudsters and syndicates."
Comments
comments