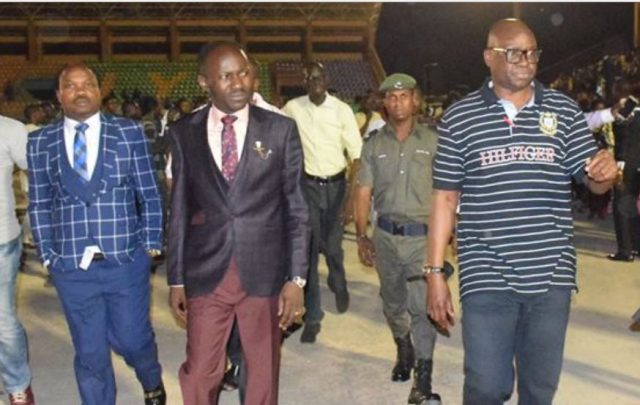 #NaijaLiveTv
Founder of Omega Fire Ministries, Apostle Johnson Suleman has prophesised that the candidate of the Peoples Democratic Party, Olusola Eleka will defeat the All Progressives Congress' candidate. Kayode Fayemi in the forthcoming governorship election in Ekiti State.
The election in Ekiti is expected to be a strong contest between the candidate of the incumbent governor of the state, Ayodele Fayose's PDP, Kolapo Olusola, and that of the All Progressives Congress, Kayode Fayemi who is anointed by President Muhammadu Buhari.
Suleman who revealed the prophecy during a Sunday service in Auchi said the PDP will retain power in Ekiti state for another four years.
In the course of the service which was monitored by #NaijaLiveTv the Apostle interjected before the message of the day that he has been getting many entreaties about what would be the outcome of the Ekiti elections.
He added that he was ready to announce what he saw about the election and that he knows he saw correctly.
Suleman said he saw the ruling party, PDP retaining power in the State but just for another 4years only. That the other major contender should go and wait for his turn and that will be after the next 4years.
He went ahead to say that, he is also aware that the Federal Government has put a tab on some pastors with the intention of framing them up with things so as to tarnish their image and possibly lead to their arrest. That he knows his name is on the list but that they won't succeed because an unmarried man is not afraid of the death of in-laws. He said his hands are clean so he is not afraid. That God will fight for his own and expose all evil plans.
Meanwhile, the rest of the service was characterised with lots of prophecies for individuals and miracles.
A paralysed child of about 6 or 7years, got her miracles and walked. A blind teenage girl also got her sight back. A woman carrying an eightyears pregnancy was prayed for and was immediately rushed to the hospital has birth pangs set in.
Comments
comments