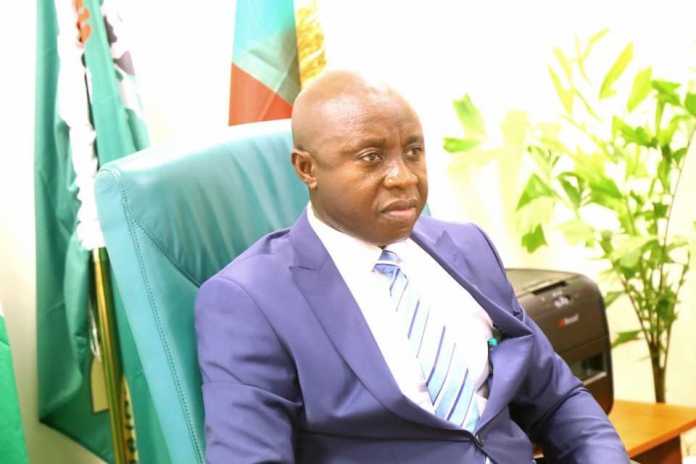 But for the ongoing ineluctable lockdown imposed by the federal government of Nigeria as part of measures in containing the COVID-19 pandemic, either the Yenagoa or Maitama residence of the member representing Southern Ijaw Federal Constituency of Bayelsa State in the lower chamber of Nigeria's bicameral legislature would have been the epicenter of diverse social, cultural, political, and familial happenings, today Wednesday 27th May 2020, in commemoration of the forty-fourth birthday of Hon. Preye Influence Goodluck Oseke. Usually an epical event that avails few out of the numerous beneficiaries of the very well venerated leader's philanthropy in reveling his humanitarianism, compassion, deep spiritualism and totally Idealistic outlook to life as becoming of one who is a thoroughbred of the LoveWorld ilk whose life is replete with epistles of love written in the hearts of many as they get that once-in-a-year venting opportunity to do so. Due to his passion for the upliftment of humanity, he always has at his disposal plunder and tribute amassed through such gestures. Just like a good day signals to that effect in its early hours, Oseke jump-started his tenure by embarking on a number of activities between electoral victory and inauguration. Signaling the change in narrative within this period, he paid registration fees for thirty-five pupils of the federal constituency into the Nigeria Military School Zaria, as well as mobilized them from the creeks and tributaries to attend the nationwide entry examination at the Bishop Dimieari Grammar School centre, Yenagoa.
Though yet to be inaugurated then, in May 2019, applicants to the Niger Delta Development Commission Post-Graduate Scholarship scheme were accorded priority attention, as not only were recommendation letters signed for applicants but a comprehensive list of same were forwarded to the Manager of the NDDC Post-Graduate Scholarship scheme for consideration, an effort that was greeted with huge success as some are already undergoing their post-graduate studies in different universities overseas.
As a means of retelling his own tortuous story of determination and courage against great odds of life in acquiring education, the Preye Oseke Foundation, has over the years become a veritable platform in managing the payment of annual bursaries to all Southern Ijaw students in tertiary institutions nationwide. In doing this, the Foundation closes ranks with the leadership of the Federated Union of Southern Ijaw Students (FUSIS) in order to make the process and procedure institution-based. For the 2019/2020 session for instance, payment for the first batch has been done while subsequent batches will follow soon.
Oseke's close associates adduce that his convivial relationship with age-long friends is informed by his sense of justice and equity; this being one of his guiding ethos of life. More than others, his aides who are privileged to see through his heart, can attest to his unparalleled love for humanity, as he strives to bequeath a legacy of honesty and sincerity in service to the people, these done passionately with a mien of patience and gentleness.
The team-spirited congressman who, shortly after his inauguration into the Ninth Assembly of the Federal Republic of Nigeria, has earned for himself the place of Secretary in the Bayelsa Caucus. He has five Bills and two Motions to his credit within the eleven months that has elapsed, all of which were scheduled for First Reading prior to the subsisting nationwide lockdown. Of paramount importance is the Bill for an Act to amend the National Commission for Nomadic Education Act, CAP N20, LFN, 2004 to redefine the concept of nomadic education thus extending it to all categories of nomads including migrant fishermen, itinerant farmers and pastoralists, redefine the pedagogy and approaches to nomadic education to include the use of new media, tele-centres other than classrooms to promote mobile learning and literacy amongst nomads in tandem with modern realities; and for related matters. Others include A Bill for An Act to amend the Money Laundering (Prohibition) Act, 2012 to provide for the prohibition of the use of Cryptocurrencies to facilitate money laundering activities in Nigeria; and for related matters; A Bill for an Act to provide an enabling legal framework for harnessing alternative funding, guide implementation of Public-Private Sector partnership for infrastructural development and undertake other reform measures in public Universities, polytechnics and Colleges of Education in Nigeria, and for related matters; A Bill for AN ACT to regulate the use of the armed forces of the Federation in internal security operations and for this purpose prescribe the conditions and procedure for its deployment in aid to civil security authorities and the conduct of joint operations to suppress domestic emergencies such as insurrection, civil disturbances, ethno-religious clashes, interdiction of Narcotics, drug and controlled substances; joint military and police anti-robbery patrol; and for related matters; and A Bill for AN ACT to provide special benefits to electricity consumers who make financial contribution to Electricity Companies towards the procurement, installation and maintenance of electricity distribution transformers or other related equipment.; and for related matters. Guided by contemporary concerns of significance to his home constituency, Bayelsa State and the national space in which he functions, the leader who, to the youths of the region, is iconic and symbolic of moral rectitude and moderation, has sponsored a motion tagged "The Urgent Need to Protect the Coastal Communities of Koluama 1 and Koluama 2 by Addressing the Rising Water Levels Occasioned by Ocean Surge; as well as another christened "Urgent Need to Stop the Regular Invasion and Destruction of Communities in Bayelsa State by the Nigerian Military, the latter co-sponsored by Hon. Preye Influence Oseke and the other four members of the Bayelsa Caucus. Pursuant to the former motion, a team of experts from the Federal Ministry of Environment, House Committees on Environment and Niger Delta respectively are scheduled to arrive Koluama communities soon for an on-the-spot- assessment. These indefatigable efforts have left many, as well as his colleagues, wondering if he is a greenhorn or a returnee in the Ninth Assembly, even as his name resonates across committees and sessions.
Though unwritten, like the British constitution, his tenure has vigorously pursued, with idyllic and unrestrained passion, a three-point agenda – human capital development, partnership for infrastructural development and lawmaking. As part of the success story in partnering federal ministries, departments and agencies, a cumulative eleven SILGANs have thus far been gainfully employed while several others are in the process of being so recruited. Amongst agencies that have our constituents already resume work are the Federal Capital Territory Administration (1 civil engineer), Nigeria National Petroleum Corporation (2 engineers), Nigerian Nuclear Regulatory Authority (5 scientists), Transmission Company of Nigeria (4 engineers already deployed to Abuja headquarters, PH & Benin), while several that made the list of those recommended for consideration in the yet-to-be-concluded recruitment exercises in INEC, Federal Ministry of Science and Technology and the Nigeria Security & Civil Defence Corps amongst other paramilitary institutions are underway. Also at various stages of procurement are the provision of farm implements (Tractors), provision of solar-powered street lights in some selected areas, rehabilitation of some internal roads, provision and installation of 33KVA Transformers, and the provision of solar-motorized boreholes with 10,000 capacity litres tank in selected areas within the federal constituency.
Within the short period, this very humble and rather beatific politician has built virile synergies with the Sustainable Development Goals office to secure slots for constituents to benefit from the Conditional Gash Transfer Scheme (130 beneficiaries), Household Feeding Programme (130 beneficiaries) as well as the enrollment of youths of the area into the NPOWER Scheme of the federal government (54).
In partnership with the Small and Medium Enterprises Development Agency of Nigeria (SMEDAN), three training sessions targeted at youths and women have held, these being precursors to funding channels that are currently explored as a complement intended to birth entrepreneurs in the constituency. The said trainings were "Entrepreneurship Training for Women in Southern Ijaw Local Government Area", "Entrepreneurship Training for Youths in Southern Ijaw Local Government Area", and "Training on The Need to Educate the Girlchild in Southern Ijaw Local Government Area".
Having championed a successful election outing on the platform of the APC in a predominantly PDP-ruled state and region, the overtly pious leader made his victory machinery at the disposal of his avowed boss – Chief David Lyon – during the last gubernatorial election. Ultimately, he led many more to pitch tents with the party, being the fulcrum for the exodus that characterized the pre-electioneering which preceded the overwhelming victory, an outcome whose end Bayelsans, Nigerians and indeed public watchers around the world will bemoan for a long time. Being an encircling figure in the political rebirth that Bayelsans yearned, successfully delivering over ninety percent of his own Southern Ijaw Local Government Area to the party was a feat that arguably earned him the forerunner status, coming from same local government with the gubernatorial candidate.
Agreeably, Oseke is one of the most outstanding humanists amongst his peers, not just in Bayelsa State but in the south-south region as well, as his life passion and drive has been the upliftment of man and the factors that would enable the greatest number of people to smile the largest number of times. For this urbane leader, giving to others, sharing and placing the needs of others above self are his raison-d'etre, thus he derives pleasure and contentment in bringing succor to the unreached and apparently rejected of society. Due to the seeming unabating spate of insensitivity, most holders of public office are easily clasped into the category of "those that don't care" few months away from inauguration. Gladly, however, the idealist has remained completely unscathed thus far. These could perhaps explain the rationale for the rather too early, yet very glaring nudge and encouragement by constituents that the self-effacing politician should once again get on the campaign rostrum and show up immediately the klieg lights go on.
Oseke remains very popular, eulogized, loved and adulated in open glare, even more so nocturnally across political divide. Despite all these, he prefers to remain relatively unknown and evasive, an euphemism that forebode his hitherto short, but impressive high service to his constituents.
Let us join hands with family, friends, and colleagues in giving forty-four resounding salutes to Hon. Preye Influence Goodluck Oseke on the occasion of his birthday 2020.
Godfrey Pondei, Ph.D writes from Yeneagoa.
Comments
comments