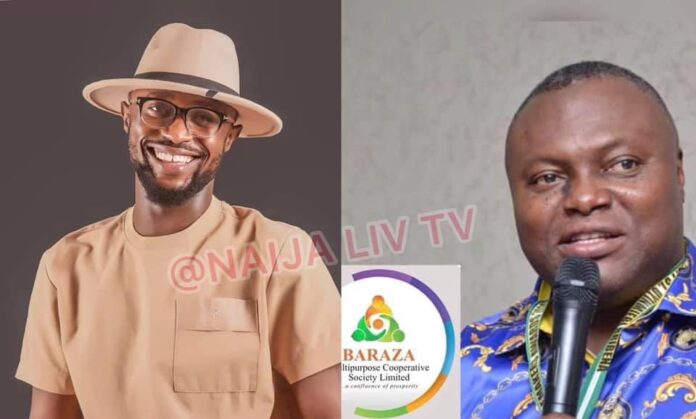 A Former Staff of Baraza Multipurpose Cooperative Society Limited, Mr. Mayor Samuel Messiah alias MAYOWA has been arrested by Security Operatives in Yenagoa over allegations ranging from conspiracy, abuse of office, sabotage, fraud to cybercrime and Diversion of funds belonging to Baraza 

Mr. Mayor is the initiator and CEO of "Shine Multipurpose Cooperative Society Limited" located at Najo Place, Adjacent Fido Water, Kpansia Market Road by the Express, Yenagoa Bayesa State. 

 Several Millions of Naira made for Baraza contributions was diverted and transactions were traced to his Personal Union Bank (0133735593) account
READ ALSO: Eight Baraza staff arrested over alleged fraud, conspiracy, Diversion of Funds …As Miebi Bribena vows to submit self for investigation

Source revealed to  NAIJA LIVE TV that Mr. Mayor  was allegedly arrested by the security agents for an alleged conspiracy, Fraud, Stealing and Diversion of Baraza Funds. He's presently in Security custody and had since owned up to the allegations leveled against him. 
According to Security Source (Name Withheld) He has since made confessional statements and owned up the allegations and pleading seriously for forgiveness.
It was further revealed that the suspect was working in the Server Room of the Cooperative but as been allegedly receiving money from unsuspecting Baraza members into his private Union Bank (0133735593) account and allegedly conniving with Pastor orji who was in charge of POS machine and Peter Ere who was also said to be in charge of receipts to falsify transactions and later split the proceeds for their personal use without remitting into Baraza account. 

NAIJA LIVE TV reported that, the Chief Executive Officer of Baraza Multipurpose Cooperative Society, Miebi Bribena had earlier disclosed that some of his indicted staff in the ongoing investigation of the organization bought oil vessels, built mansions in choice places and acquired state of the art cars.

He also said some of them allegedly established their own Cooperative Societies with the proceeds of the money they fraudulently obtained from Baraza – a confession he claimed they have all made to security agents investigating the matter.

NAIJA LIVE TV also report that a team of security operatives have arrested Eight former Staff of BARAZA Multipurpose Cooperative Society Limited over allegations ranging from conspiracy, abuse of office, sabotage, fraud to cybercrime.
Comments
comments