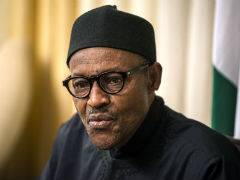 #NaijaLiveTv
As preparations for the 2019 elections continue to gather momentum politicians have been holding strategic meetings. On Monday, former President Olusegun Obasanjo travelled to Ondo to meet Afenifere leaders.
On Tuesday, President Muhammadu Buhari who is seeking reelection, hosted the Buhari Support Organisation (BSO) at the presidential villa. The president who has hardly made negative comments about Obasanjo took a swipe at the elder statesman and surprisingly hailed Sani Abacha, a former head of state.
We take a look at six things Buhari said.
ABACHA BUILT ROADS
Buhari, who was appointed by Abacha as chairman of the Petroleum Trust Fund (PTF), dismissed opinions people might have against the late dictator and praised him for ensuring the construction of roads in Nigeria.
"No matter what opinion you have about Abacha, I agreed to work with him and the PTF road we did from here to Port Harcourt, to Onitsha, to Benin and so on," he said, adding that "on top of other things in the institution, education, medical care and so on."
OBASANJO, WHERE IS THE POWER YOU SPENT $16B ON?
A year after Obasanjo left office, the house of representatives said the $16billion spent on power by Obasanjo's government was a colossal waste. The legislators blamed this on Obasanjo's poor budget planning and a lack of proper oversight by relevant bodies.
Civil society orgnaisations had called for a probe, and while speaking with his supporters, Buhari rode on this, asking the former president where the power is.
"You know the rail was killed and one of the former Heads of State between that time was bragging that he spent more than $15 billion, not Naira on power. Where is the power? Where is the power? And now we have to pay the debts and this year and last year's budget I took to the National Assembly was the highest in capital projects, more than N1.3 trillion Naira."
OCCUPIERS OF THE NATIONAL ASSEMBLY HAVE BEEN DOING NOTHING
Buhari did not spare members of the national assembly whom he tagged as being unproductive.
"Let anybody come and confront me publicly in the National Assembly. What have they been doing? Some of them have been there for 10 years. What have they been doing?" he asked.
He added; "so really this country luckily for me I said it about eight years that we have no other country than Nigeria, we should remain here and salvage it together no matter what you have outside."
FORMER PRESIDENTS FROM 1999 LEFT DEBT FOR ME
Buhari said he had to run to Godwin Emefiele, governor of Nigeria's apex bank, to seek clarity on the country's financial issue, when he learnt that previous governments had not saved, rather left debt.
"I have to repeat what I want the public to know here. Some of you may not have heard it. Either there is no power in you place or you have not even seen it on television. I said and I challenge anybody to check from Europe, Asia and America.
"Between 1999 and 2014, Nigeria was getting 2.1 million barrels per day and average cost of $100 per barrel. It went up to $143. So Nigeria was earning 2.1 million multiply by 100, multiply by 16 years, seven days a week. When we came, it collapsed to $37 – $38 and it was oscillating between $40 and $54 sometimes. I went to the Governor of Central Bank, thank goodness I did not sack him, he is still there. I went with my cap in my hand. He said there was no savings, only debt."
CORRUPT PEOPLE DENYING THEIR LOOT
Buhari also raised concerns over people whom ill-gotten properties were traced to but denied owning them.
"Now we got some of the people with houses here, some in Abuja or somewhere in America and Europe, some of them swear to God that it doesn't belong to them. But their accounts, through the banks, through their companies, it is clear it belongs to own. But they say it's not their own.
"This is a terrible time and the people are saying what are we doing? Why can't you lock them up? And again I went on telling them what I said when I was in uniform, younger and rather ruthless, I got from the President downward locked up in Kirikiri and I said you're guilty except you prove yourselves innocent. I myself was locked up and those who misappropriated public funds were given back what they had taken away."
WE WILL BRING THIS COUNTRY TO HER SENSES
While asking for God's help, Buhari said he would bring the country back to its senses.
"Since we all believe that God works in our hearts not in our talking. God help us, God help our children and grandchildren. We will try as much as we can to work and bring this country to her senses. God has given Nigeria everything; we are rich in human and material resources, let us keep praying to God that He should put people of conscience in charge at all levels."
Comments
comments