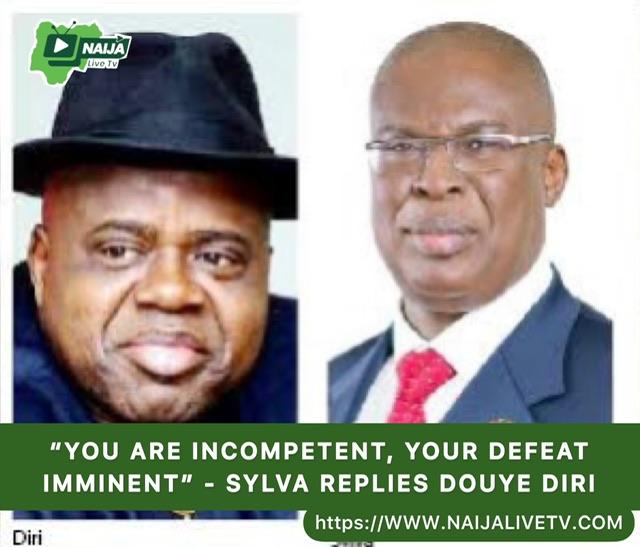 The Bayelsa State Governorship Candidate of the All Progressives Congress (APC), Chief Timipre Sylva, has told the state Governor, Douye Diri, to prepare to vacate the Creek Haven, Government House, describing him as incompetent and a woeful failure.
Sylva, who reacted to Diri's comment that he and the APC were not sellable in Bayelsa, said the governor was only having his last kick because he knew his defeat was imminent.
The former Petroleum Minister in a statement signed by his Special Adviser, Media and Publicity, Julius Bokoru, said Diri had nothing to campaign with as he had wasted his four years of unmerited victory in the state and was waiting to be kicked out by the people on November 11.
Sylva said: "Douye Diri is fully aware his chances of winning are nil. While Sylva maintains a wide lead over Diri in experience, competence and sincerity of purpose, Diri, who was imposed on the people steadily drifts into massive defeat because of his glaring incompetence and insensitive governance.
"In his statements in front of the few remaining Nembe LGA PDP people, Diri is seen to pride himself with the Nembe Bridge, but the world knows that that bridge was 75% completed by Sylva. Diri barely touched that bridge".
Sylva said the people had expected Diri to be going around inaugurating developmental projects ahead of the election, but because he had nothing to show, the governor was busy issuing vague statements and bribing people for support.
He said: "It is puzzling that instead of going around inaugurating projects in the state and reeling out achievements, the only campaign strategy the self-styled miracle government has employed is issuing out vague tantrums as press statements on daily basis.
"The self-styled miracle governor has also resorted to bribing people who claim to be APC members, Including a recently ousted lawmaker, to make media outings and flitting around the country shopping for the support of clergy men and political leaders.
"Diri's apparent edginess gives him out as the unsellable one. On the road to his massive defeat against the APC in 2019, he scored just 54% of the votes in his LGA, Kolokuma-Opokuma.
"This is a testament to his people's indifference to him after being a commissioner, a principal secretary to the government, a two-time House of Representatives member and a Senator without attracting any developmental attention to his people".
Sylva recalled that Diri lost Nembe LGA with nearly 80% of the votes against him saying his obsession with Opu-Nembe and Nembe LGA generally was connected to another round of defeat waiting for him in the LGA.
The statement said: "Sylva, and his running mate Joshua Maciver, a ticket Douye Diri constantly speaks against and is in court challenging out of sheer fret, has been adjudged to be, overwhelmingly, the people's choice.
"Bayelsans are determined, in the face of bribery, intimidation, threats of violence and blackmails, to restore sanity in Creek Haven by replacing the ongoing creche at Creek Haven with Sylva and the APC who have a clear, simple journey to a better Bayelsa".
Comments
comments