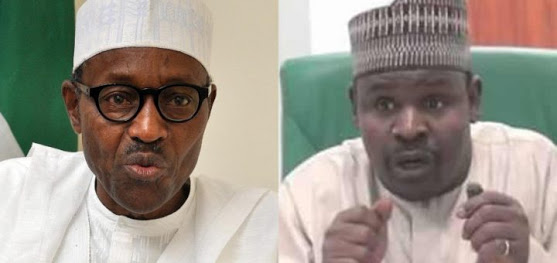 Try to impeach Buhari…. expect war – Lawmaker
A House of Representatives member, Rep. Muhammadu Kazaure (Jigawa-APC), has disassociated himself from National Assembly's plan to impeach President Muhammadu Buhari.
A joint executive session of the both chambers of the Assembly earlier on Tuesday passed a 12-point condition for the president to address urgently or face the invocation of the powers of the legislature.
At a news conference shortly after the ultimatum to the president by the lawmakers, Kazaure said that he would not be part of such decision.
"Nobody will impeach the president as far as we are alive in this House because that day, it will be a war day," he said.
He said that there were senators and members of the house who would not support such move.
The lawmaker urged Buhari to intervene in the matter in the interest of the country and the All Progressive Congress (APC).
"I am sure the president will take serious action and the whole thing will stop.
"You are aware that in 2015, we didn't have money, we didn't have power and we never intimidated anybody.
"God gave us this power; so, there is no need for this government to intimidate anybody because of re-election matter or any other reason.
"By now, we should try and be good to people; this is what we should concentrate on," he said.
He said that with increase in oil price, the focus of government now should be on how to give Nigerians better welfare package.
"The people are complaining not only about security but poverty, hunger; even in my constituency, the people are complaining about this."
Kazaure said that he was not in support of Buhari allowing some people to create problems for him by frustrating those who had helped the party to win the 2015 elections.
"These people have assisted us; we don't want them to go; we want them to come together and assist the president again.
"So, the president must call those people to order because we will lose many votes if this crisis continues.
"That is why we have to call the attention of the president into this crisis because it is degenerating," he said.
According to him, since I came into the National Assembly, I have never seen this hot joint session.
"This is why I decided to convene this press conference because if the executive, legislature and the judiciary work together, we will succeed," he said.
He said it was disheartening that the people who had worked with the president from 2003 till date have been sidelined.
The lawmaker, however, called on the president to reconcile all the differences among the politicians
Comments
comments