#NaijaLiveTv
The Buhari administration on Sunday stepped up its attacks against former President Olusegun Obasanjo, accusing him of masterminding illegal ouster of at least five governors in the 2000s.
Garba Shehu, a presidential spokesperson, said in a Sunday evening essay to PREMIUM TIMES that Mr Obasanjo's tenure, 1999-2007, represented the dark days of Nigeria's democracy due to a slew of assaults on the constitution.
He argued that President Muhammadu Buhari has painstaking followed the Nigerian constitution since he assumed office in 2015.
Mr Shehu accused the former president of deploying federal machinery to remove ex-governors Joshua Dariye, Rashidi Ladoja, Peter Obi, Chris Ngige and Ayo Fayose from office. The politicians were governors of Plateau, Oyo, Anambra, Anambra and Ekiti, respectively.
"When they ran the government at the centre, the opposition PDP showed aptitude in only one thing: the toppling of elected state governments using the police and secret service under their control," Mr Shehu said.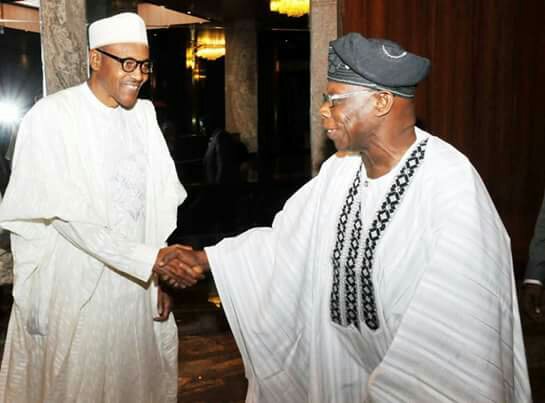 He gave account of how Mr Obasanjo allegedly perpetrated the alleged constitutional infractions.
"A five-man legislature met at 6:00 am and "impeached" Governor Dariye in Plateau; 18 members out of 32 removed Governor Ladoja of Oyo from office; in Anambra, APGA's Governor Obi was equally impeached at 5:00 a.m. by members who did not meet the two-thirds required by the constitution.
"His offence was that he refused to inflate the state's budget. The lawmakers had reportedly met with representatives of the President in Asaba , Delta State and then accompanied to Awka by heavy security provided by the police Mobile Unit. The PDP President at that time had reportedly told Obi to forget re-election in 2007 if he did not join the PDP because he (the President) would not support a non-PDP member.
A former governor of Anambra State, Peter Obi [Photo: Concise News]
"In Ekiti, Governor Fayose in his first term faced allegations of financial corruption and murder. Following the failure to heed the instruction of the presidency to impeach only Fayose and spare the deputy, Madam Olujimi, now a senator, the PDP President declared that there was a breakdown of law and order in the state and declared a state of emergency.
"He appointed Brig-Gen. Adetunji Olurin (rtd) as the sole administrator of the state on October 19, 2006. In an earlier incident in Anambra, it took an insider collaboration to thwart the unseating of Governor Ngige by a powerful thug sponsored by the PDP administration.
"The parliament at the centre seized the law-making powers of the Rivers State House of Assembly as a way to save Governor Rotimi Amaechi, the then chairman of the Nigerian Governors Forum from impeachment by the PDP presidency. Thank God for Buhari, none of these absurdities has happened under his watch but the PDP is indicating their boredom with his meticulous observance of the constitution by calling for a return to the old order," the spokesperson said.
Mr Shehu condemned the PDP, despite its own history, for having the effrontery to write to the UN with allegations of constitutional breaches against Mr Buhari.
"I not for "dry eyes," as said in our common parlance, what is it that would push this party to write a letter to the United Nations, laying false claims to constitutionality and alleging that democracy is presently under threat?" Mr Shehu said.
Mr Shehu's statement marks the latest attack in the escalating political feud between his principal and Mr Obasanjo. Last week, Mr Buhari accused Mr Obasanjo of squandering $16 billion earmarked for power projects without noticeable impact.
Mr Obasanjo fired back at the president, describing him as "ignorant" for accusing him over a matter for which he had been repeatedly cleared by several investigative panels.
The face-off stemmed from an open letter written by Mr Obasanjo in January, warning Mr Buhari not to run for re-election in 2019 or risk being disgraced out of office.
The president has rejected all calls for him to stand down in 2019 largely due to his failing health, including those from former military ruler Ibrahim Babangida. He had spent more than 172 days receiving medical treatment abroad, a record for any Nigerian president in history, according to the International Centre for Investigative Reporting, ICIR.
A spokesperson for Mr Obasanjo did not immediately return PREMIUM TIMES' requests for comments.
The PDP dismissed Mr Shehu's statement as a distraction that will end up working against his principal's interest.
"All these assaults and blame games on past leaders will not help them to win re-election in 2019," the opposition party's spokesperson, Kola Ologbondiyan, told PREMIUM TIMES by telephone Sunday night.
He wondered when the Buhari administration suddenly woke up to the reality of alleged transgressions on the party of Mr Obasanjo, a man they had courted since 2015 when then-candidate Buhari first sought his support to win.
Mr Obasanjo supported Mr Buhari's campaign in 2015, using several political attacks to weaken then-incumbent President Goodluck Jonathan.
Mr Obasanjo left the PDP in 2014 and has continued to dissociate himself from the opposition party.
He cited Mr Buhari's circumvention of National Assembly in the purchase of military aircraft earlier this year as one of the president's blatant disregard for the Constitution.
"President Buhari has acted in several ways that portray our democracy like a military regime," Mr Ologbondiyan said. "He paid for the super tucanos without the approval of the National Assembly."
"Only a few days ago, he boasted that if he had his way, he will lock all the politicians in jail," that is a statement that is clearly anti-democratic. "In a democratic system, an accused person is innocent until proven guilty."
Comments
comments