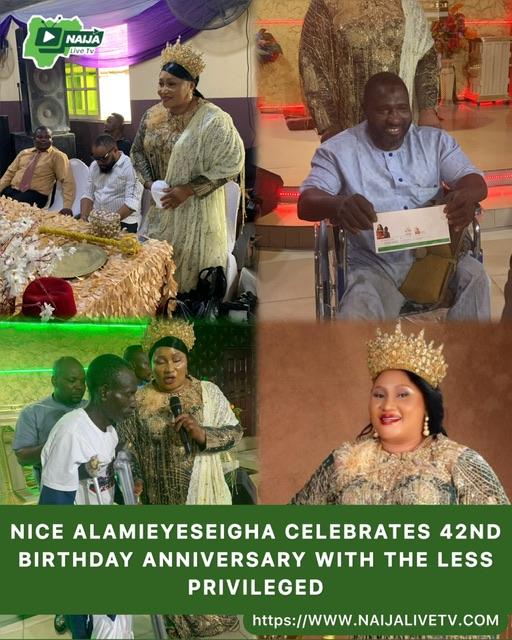 The founder of Nice Esther Alamieyeseigha Rescue Initiatives-NEARI and Nice Esther For All Foundation—NEFAF, High Chief Dr. (Mrs.) Nice Aleruchi Toubolayefa Alamieyeseigha, has reached out to orphanage homes and the physically challenged as she mark her 42nd birthday.
The celebrant who set out a very vibrant occasion to cater for the vulnerable in the society on Monday, 11th of September, 2023, made available certain funds to the poor as palliative measures targeted at the physically challenged persons among Nigerians across the 36 states and Federal Capital Territory-FCT, Abuja, who are living below USD$1 per day income bracket occasioned by the oil subsidy removal and for feeding and payment of School Fees for the orphans.
Her 42nd birthday ceremony was held at Genuine Zion Deliverance Ministry Headquarters, Bishop Elkanah Hanson Avenue, Off El Shaddai Street, UPE Sandfield, Borokiri area of Port Harcourt Rivers state.
WATCH VIDEO:
In this year's birthday anniversary, Dr. (Mrs.) Nice Aleruchi Toubolayefa Alamieyeseigha, in her extraordinary way of doing humanitarian gesture, doled out the sum of two hundred thousand naira(N200,000.00) to several Orphanage homes and charity organizations.
Some of the beneficiaries include; Compassion Centre Nkpogu Port Harcourt, Mother of Perpetual Orphanage Home Omagwa Ikwerre LGA, Blessed Children Orphanage Home Oyigbo town in Oyigbo Local Government Area, David Bassey Ikpeme Foundation, Good Health Foundation Eagle Island Port Harcourt Rivers state among others.
The Physically challenged persons were not left out as they were present at the venue of the birthday ceremony in their great numbers representing their states of origin across the 36 states and Federal Capital Territory FCT Abuja. Alhaji Saleh, leader of the physically challenged persons present, who got a wheelchair from the celebrant apprciated the humanitarian gesture of the celebrant.
Similarly, Reverend Sister Ngozi Onyekeozulu, of Blessed Children Orphanage Home Oyigbo, who traveled from Enugu to join the celebrant said "I will never forget the past where I am today, I will always remember. I was at Enugu after Surgery but I made sure that I must be here."
The host and founder of Genuine Deliverance Ministry, Apostle David E. Alban, described the anniversary as "Merciful privilege from God for 42 years of the life of the celebrant as life is an opportunity given by God. I am 42-years old also. I appreciate Chief Mrs. Nice Alamieyeseigha for her humanitarian activities especially with the less privileged," he said.
In her remarks, the Chief celebrant praised God for seeing her through in all things especially her family and her marriage. She equally thanked the General overseer Apostle David E. Alban of Genuine Deliverance Ministry.
"After all the years God has been seeing me through. My whole thanksgiving cannot be complete without touching lives as a humanitarian. I support the church for the building project to move to a permanent site," she said.
The event had in attendance a gospel musician of A-List performance level, Sensational Bamidele, who electrified the entire hall with giggle and dance, even the physically challenged moving their bodies to the rhythm of the Gospel music.
Other female gospel musicians were present to give their best in praises to God for the celebrant's 42nd birthday. There was also online global presence through several social media platforms.
High Chief Dr. (Mrs.) Nice Aleruchi Toubolayefa Alamieyeseigha was born on the 11t of September, 1981, to Sir Chief Alex Amadiwochi, a retired Computer Science Lecturer, and Lady Confidence Alex Amadiwochi, a retired Head Mistress, both from Alimini Isiokpo town in Ikwerre Local Government Area of Rivers state.
WATCH VIDEO:
The celebrant is married to the younger brother of Late High Chief DSP Alamieyeseigha, a former civilian Governor of Bayelsa State from 1999 to 2005, who translated to eternal glory few years ago.
This hardworking lady of substance is one of the most sought after in the provision of humanitarian services in Nigeria given her over 20 years experience in this field.
She held a ground-breaking ceremony for the construction of a multi-billion naira Orphanage Home situated at Isiokpo Town in Ikwerre LGA of Rivers state. This ceremony was a hallmark of her 40th Birthday anniversary two years ago which had in attendance former national President of Nigeria Bar Association (NBA) OCJ OKOCHA SAN, and other very important dignitaries.
Chief Dr. (Mrs.) Nice Aleruchi Toubolayefa Alamieyeseigha was the Women Leader and Executive Director Women Mobilization of Atiku/Okowa 2023 Presidential Campaign Council in Rivers state. She also held sway as Women Leader of Atiku Support Organization, a socio-political pressure group that campaigned nationwide for the 2023 Presidential ticket of Atiku Abubakar as Presidential candidate of PDP.
WATCH VIDEO:
Comments
comments