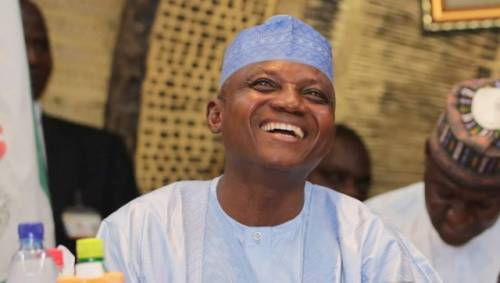 #NaijaLiveTv
Garba Shehu, Senior Special Assistant to the President on Media and Publicity, says Nigerians have more electricity than they can consume.
He said this while speaking to journalists in Abuja on Monday.
He said the current Federal Government is building infrastructure across the country, and every state has at least two federal roads currently in construction.
"We have more electricity that cannot be consumed, 2,000 megawatts of electricity that nobody is taking. By the year ending, we are going to hit 10,000 megawatts from the 2,600 that we inherited." he said.
He also said that the war against corruption led by the President was attracting lots of attacks from those who benefitted from the old system of things.
"As I speak to you now, two former state governors are in jail; a lot of people thought that this war against corruption is a joke and that the back-and-forth that had characterized this over time, will continue," he said.
"One of the two cases was determined after 11 years of back-and-forth between lawyers and judges, kicking the ball from this court to that court. A lot of these harsh attacks against the President are coming from people who had become used to lifestyle they cannot sustain.
"On record, there were people in this country, because they are influential, they had permanent suites in major hotels in Abuja where they lived lavishly at the public's expense. And, when they are leaving, they are accompanied with bags of Ghana-Must-Go. They will continue to fight the president, but the happiness we have is that ordinary low-level Nigerians understand the huge conspiracy."
He then assured the public that the President would continue to develop the economy of the country despite these "attacks".
"Nigerians are with the President, the elite are going to places, America and the United Kingdom, and they are clicking in posh homes in Abuja, Lagos and some major cities in the country. They are trying to thwart the goodwill of the president towards the people. But this economy is being re-built; more foreign investment is coming, more infrastructure is being given to Nigerians and even the security infrastructure which had suffered neglect over the years is being given priority," he said.
He added that no government in the past did as much for the military and the police as the current administration is doing.
Comments
comments