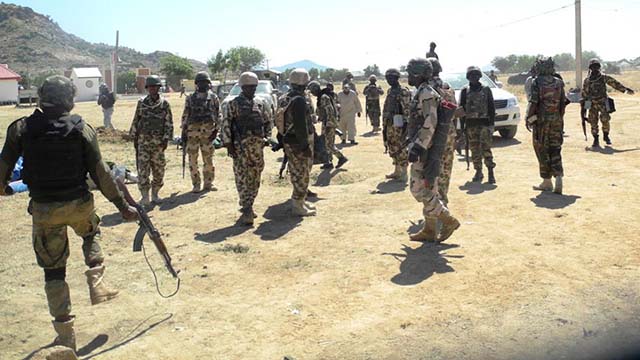 Fears and panic taking the centre state in Gomari and 1,000 Housing Estate in the outskirts of Maiduguri, Borno state capital city The raging emotions and confusion is a result of an unexpected attack by members of the Boko Haram terrorist group.
The terrorists invaded the community, detonating explosives that led to the destruction of property while leaving a young boy injured.
The Nigerian Army has asked residents of the communities in Maiduguri, Borno state's capital city to remain calm after the Saturday, December 4, explosions that rocked the area.
READ ALSO: Insecurity: Russian President Vladimir Putin Makes Big Promise To Nigerian Government
Daily Trust reports that the director of Army public relations, Brigadier General Onyema Nwachukwu said the terrorists made an unsuccessful attempt to maintain some level of relevance in with the explosions.
Nwachukwu said troops of the Joint Task Force of the northeast, operation Hadin Kai have immediately responded to the breach of security in the city by the terrorists.

READ MORE:UN will help Nigeria overcome insecurity, envoy pledges
He added that military ground troops in collaboration with the air component of OPHK responded swiftly to the attack by the insurgents.
Also, Leadership reports that Nwachukwu said the troops dominated the area with ground and air interdiction that successfully neutralized the terrorists and the infiltration attempt by the terrorists.
Further assuring residents of the area not to Panic, Nwachukwu said the explosions which rocked the outskirts of the city have caused some damages. He also said that it is sad that a minor sustained injury in the attack that was carried out by terrorists in the area. Nwachukwu said:
"The good people of Maiduguri are equally enjoined to go about their normal socio-economic activities and provide actionable information on the movement of these criminal elements."
Comments
comments