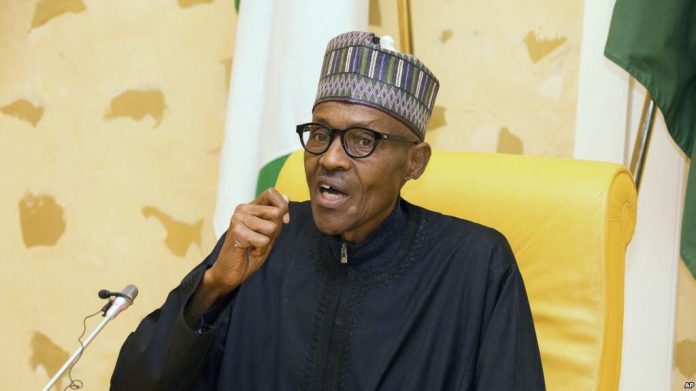 NaijaLiveTv.com
In this photo released by the Nigeria State House, Nigeria President Muhammadu Buhari, speaks at the presidential palace upon his arrival from medical vacation in Abuja, Nigeria. Friday, March.10, 2017 .Nigerian President Muhammadu Buhari returned to the country on Friday after a medical leave of a month and a half that raised questions about his health and some calls for his replacement, but he made clear that whatever was ailing him was not yet over. (Sunday Aghaeze/Nigeria State House via AP)
President Muhammadu Buhari on Monday revealed those behind the lingering crisis between herdsmen and farmers in some states of the federation.
Buhari said those who are determined to plant the seeds of discord and disunity among Nigerians were responsible for the crisis.
He made the disclosure during his Independence Day nationwide broadcast.
The President, while assuring Nigerians of adequate security, also vowed to ensure that perpetrators are made to face the full wrath of the law.
According to Buhari, "The age-long conflict between herders and farmers that was being exploited by those seeking to plant the seeds of discord and disunity amongst our people, is being addressed decisively.
"We will sustain and continue to support the commendable efforts by all including civil society organisations, local and states governments and our traditional and religious leaders in finding durable solution to this problem.
"This being a transhumance issue, we are working with countries in our region that are also facing similar difficulties to complement our common efforts. In this context I must warn that the perpetrators of murder and general mayhem in the name of defending or protecting herders or farmers will face the full wrath of the law.
"Meanwhile, we urge all peace loving Nigerians to reject any simplistic portrayal, at home or abroad, of this conflict as either religious or ethnic based."
Comments
comments