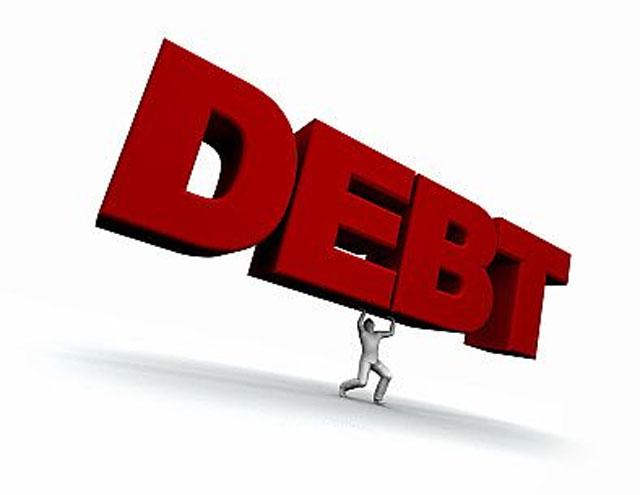 Every Nigerian will be owing N384,864 each when President Muhammadu Buhari leaves office in May 2023, with the country's debt profile expected to spiral to N77 trillion by then.
The Debt Management Office (DMO) has projected that government's persistent borrowings would see President Muhammadu Buhari leave a humongous debt of N77 trillion behind for the incoming administration.
Patience Oniha, who heads the agency, said at a public presentation on January 4, 2023 on the 2023 budget at the National Assembly that new borrowings of ₦10.57 trillion was captured in the 2023 budget.
If divided by an official exchange rate put at N422 to an American dollar, 200 million Nigerians would have inherited N384,864 debt per person when the current administration winds down.
Available data showed that 73 per cent of internal debt, which is about 60 per cent of the total debt stock, is government bond, saving bonds, treasury bills, Sukuk and Green bonds.
Of internal debts, 2.3 per cent is government's promissory notes to companies issued export expansion grant.
With the rising deficit in the budget, industry analysts posit that whoever takes over from President Buhari has tough choices to make on the economy, with the 2023 budget designed as a deficit document to be funded by borrowing.
"There is a strong link between ballooning debt, weak exchange rate and Nigeria's rising hyper inflation. This is already taking its toll on Nigeria's assesment by global rating agencies like Fitch and Moody. The worst of it all is that indigenous companies quoted on the Nigeria Exchange Limited are also donwgraded," a development economist, Kelvin Emmanuel, told The ICIR.
Emmanuel pointed out a further concern of high monetary policy rate (MPR), which he said chokes businesses in the real sector as a result of high cost of funds, occasioned by ballooning debt stock.
"There's a problem of double digit inflation. We are going to make our choice next month on who governs Nigeria and we must elect leaders who understand the economy," he said.
Already, some economists have warned the Federal government that rising budget deficit and debt servicing would starve the private sector of funds needed to drive the real sector of the economy.
The 2023 budget of N21.83 trillion places the recurrent expenditure at approximately N8.27 trillion, while capital expenditure increased from N5.35 trillion to N5.9 trillion and debt servicing also increased from N6.31 trillion to N6.6 trillion.
The Chief Executive Officer of Cowry Assets Management Limited, Johnson Chukwu, who spoke with The ICIR, said if the government failed to exercise caution on how it funds budget deficits, the private sector would be seriously weakened in its capacity to drive the economy.
Chukwu said, "When we talk of the budget deficit of N12 trillion, we are also talking of a national debt of more than N22 trillion. If the Federal government continues to borrow, the implication is that you are going to crowd out private sector funding for the real sector.
"The increase in projected revenue only gives incentives to spend more even when we haven't met up with it in the last five years. Now, this has made us to increase the budget deficit, which is putting lots of pressure on our funding the private sector."
The economist also forewarned that Nigeria may head the way of Ghana if it fails to address its appetite on "unregulated borrowing."
Nigeria's budget deficit rises by 370 per cent to N47trn
The Budget Office of the Federation's recent data analysis indicated that total budget deficit is set to hit N47.43 trillion under President Buhari.
The analysis covers the actual budget deficits and projections for the 2015, 2016, 2017, 2018, 2019, 2020, 2021, 2022, and 2023 fiscal years.
According to the figures, deficit financing has risen by 370.54 per cent from N2.41 trillion in 2016 to N11.34 trillion in 2023.
In the third and fourth quarters of 2015, total deficit financing amounted to N841.48 billion. It rose to N2.41 trillion in 2016, N3.81 trillion in 2017, N3.65 trillion in 2018, N4.18 trillion in 2019, N6.59 trillion in 2020, and N6.44 trillion in 2021.
While the total deficit for 2022 has not been released, the Budget Office expects the figure to hit N8.17 trillion (of which N6.37 trillion had been spent by November 30, 2022). The office also anticipates a high deficit financing of N8.17 trillion for the 2023 fiscal year.
Between the third and fourth quarters of 2015, 2016, 2017, 2018, 2019 and 2020; the first three quarters of 2021, and the first four months of 2022, the Federal government spent N23.66 trillion on personnel costs, pensions, overhead costs, presidential amnesty programme, other service-wide votes, and special interventions.
It also spent N14.13 trillion on servicing domestic and foreign debts, as well as N10.47 trillion on capital expenditure.
Explaining the government budget deficit, an economic professor, Akpan Ekpo, said, "This shows that expenditure has eclipsed the revenue, because they have to borrow, which is why there is a deficit.
"They can't raise enough domestic resources to finance spending. That gap is a deficit. By the rules, it should not be more than a certain percentage of the gross domestic product (GDP), but it has exceeded that."
Former Coordinating Minister for the Economy, Ngozi Okonjo-Iweala, saw a need to keep the budget deficit under three per cent of the GDP because of the Fiscal Responsibility Act 2007, and in accordance with the international norm.
The country's budget deficit to the GDP ratio had risen from 1.69 per cent in 2015 to 2.37 per cent in 2016. It increased to 2.85 per cent in 2018, and to 2.92 per cent in 2019. The Federal government expects the deficit to GDP ratio to be 5.03 per cent of the 2023 budget.
The Minister of Finance, Budget and National Planning, Zainab Ahmed, had admitted that the government was struggling to raise revenue for its expenditure.
In a document titled 'Public Consultation on the Draft 2023 – 2025 MTFF/FSP,' Ahmed said, "Revenue generation remains the major fiscal constraint of the federation. The systemic resource mobilisation problem has been compounded by recent economic recessions."
While defending the 2022 budget, she stated, "If we just depend on the revenues that we get, even though our revenues have increased, the operational expenditure of the government, including salaries and other overheads, is barely covered or swallowed up by the revenue.
"So, we need to borrow to be able to build these projects that will ensure that we're able to develop on a sustainable basis. Nigeria's borrowing has been of great concern and has elicited a lot of discussions. But if you look at the total size of the borrowing, it is still within healthy and sustainable limits."
Comments
comments