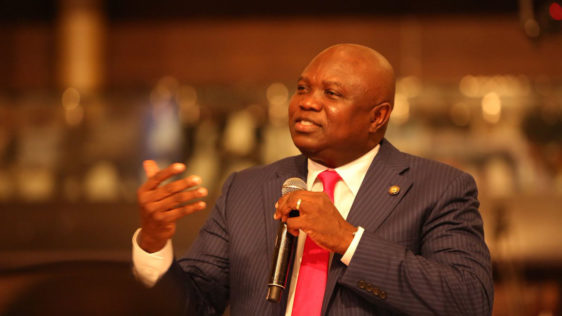 #NaijaLiveTv
The Lagos State Government is to introduce an efficient pension scheme for its workforce, an official said on Sunday.
Under the new regime, retirees will be paid their gratuity (lump sum) within three months after retirement.
The Director-General, Lagos State Pension Commission (LASPEC), Mrs Folashade Onanuga, told the News Agency of Nigeria (NAN) that the administration would soon unveil the new regime.
"Gov. Akinwunmi Ambode is working towards a three-month gratuity collection regime.
"Our amiable governor is working towards a regime that all pensioners will be able to access their gratuities within three months after retirement," she said.
Onanuga also said that the governor was committed to the welfare of retirees as he had cleared the backlog of pensions.
She said : "Gov. Ambode is fully committed to retirees' welfare as he is working towards clearing pension backlog the administration inherited under the old pension scheme known as Defined Benefit Scheme (DBS) before the Contributory Pension Scheme (CPS) was introduced in 2004.
"He has cleared the pension backlog up till 2015.
"About N37 billion has been released by Gov. Ambode for 9, 045 retirees since he assumed office.
The director-general, however, has advised retiring workers in the employ of the state government to study the two options available to them at retirement carefully before taking decisions.
According to her, the two options are Programmed Withdrawal and Annuity.
"The retirement options should be studied carefully before signing any deal with Pension Fund Administrators (PFAs).''
Onanuga, who described some PFAs as hookwinkers, said they had been deceiving retiring employees into taking wrong decision for their own selfish reasons.
"There are still pension `fraudsters' parading themselves as PFAs and the Lagos State Government will put concrete measures in place to ensure that its retirees do not fall victims.
"It is important to note that pension fraudsters are still out there, retirees must be vigilant and courageous not to sign negative deals; be wise,'' Onanuga warned.
According to her, the commission in order to guide prospective retirees in the state public service between July and December also held a seminar on retirement benefits and documentation on June 8.
"The commission ensured that the 1,200 workers slated for retirement between July and December participated.
"The prospective retirees were equipped with retirement features and healthy lifestyles in retirement among others."
Onanuga emphasised that it was the responsibility of the prospective retirees to study and master the features.
She said, for instance, a retiring employee ought to have signed up a PFA and his or her monthly contributions remitted into his or her Retirement Saving Account (RSA).
"Lagos State Government approved 13 PFAs for its workers, among them are AIICO Pension Managers, ARM Pensions, Leadway Pensure PFA and Nigerian Life and Provident Company (NLPC).''
Comments
comments