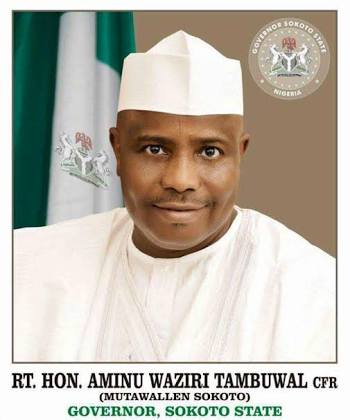 #NaijaLiveTv
The Sokoto State governor, Aminu Tambuwal, has dissolved the Sokoto State Executive Council with immediate effect.
Mr Tambuwal is one of the leading members of the new Peoples Democratic Party, nPDP, which transmuted to Reformed All Progressives Congress today.
Members of the group, including Mr Tambuwal, President of the Senate, Bukola Saraki, Speaker of the House of Representatives, Yakubu Dogara, a former governor of Kano State, Rabiu Kwankwaso, among other may join the opposition PDP anytime soon.
Recently, Mr Tambuwal allegedly told some of the cabinet members about his plan to dump the APC, but sources said the governor's decision did not go down well with the commissioners.
"Quite a very few commissioners supported the decision. So it will not be good for him to defect to PDP without his commissioners following him," an inside source who preferred anonymity told DAILY NIGERIAN.
READ ALSO: Nigeria guns for another $500m Abacha loot
As part of his last minute consultations, Mr Tambuwal had visited a former military president Ibrahim Babangida on Tuesday in Minna. Informed sources told DAILY NIGERIAN that the closed-door meeting lasted for nearly two hours.
But a statement by his spokesman, Abu Shekara, said the dissolution was aimed at restructuring and restrategizing the cabinet for optimum efficiency and service delivery to the good people of Sokoto State.
While thanking members of the council for the dedication, sacrifice and loyalty to the administration, the governor expressed appreciation to the people for cooperating with and supporting the outgoing members of the council members.
The commissioners were therefore directed to hand over the affairs of their respective ministries to their permanent secretaries.
Mr Tambuwal then wished the outgoing executive council members success in their future endeavors.
Comments
comments