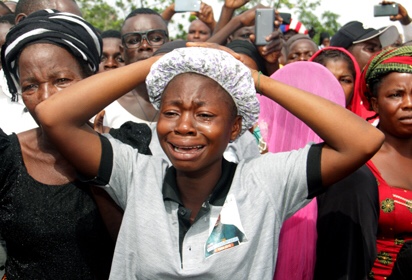 Two persons were Friday night reportedly killed and another taken captive at Wankya settlement in Zaki-Biam town of Ukum local government area of Benue State by gunmen.
Relatives cry as they mourn during a funeral service for 17 worshippers and two priests, who were allegedly killed by Fulani herdsmen, at Ayati-Ikpayongo in Gwer East district of Benue State, north-central Nigeria on May 22, 2018.
Two Nigerian priests and 17 worshippers have been buried, nearly a month after an attack on their church, as Catholics took to the streets calling for an end to a spiral of violence.
#NaijaLiveTv Exclusively gathered that the gunmen, who stormed the area at about 11.30 pm, went straight to the homes of their targets and abducted the three of them at gunpoint.
According to our source, those killed were Saater Wantu, a sibling of the Benue State correspondent of a national newspaper, and one Denen, a recharge card dealer in the settlement, while the third, Terseer Wantu, escaped unhurt from his abductors.
Narrating his ordeal with the attackers, Terseer Wantu said: "We had all gone to bed when about 11:30pm armed men forcefully broke into our houses and took the three of us away.
"We were taken through a bush path. We got to a point where they asked me to lie faced down while they took my brother and Denen away who they eventually killed.
"But after a while, at about midnight, they asked me to run. I ran but could not find my way in the bush.
I hid somewhere in the bush until daybreak when I was able to find my way out of the bush. "I have already reported the matter to the Divisional Police Office in Zaki Biam where I also made a statement about the issue."
#NaijaLiveTv also gathered that the corpses of the victims had been recovered by the police from a bush path close to Tse-Manger settlement in Ukum local government area and deposited at St. Anthony's Catholic Hospital Zaki- Biam.
When contacted, Mr. Joseph Wantu, elder brother of one of the deceased who confirmed the attack, said "We are in deep shock because we cannot comprehend why my siblings were targets of the assailants
Comments
comments