Speaker of IYC mobile parliament, Pogoyon Digimie Eldred, has been involve in a N43.8m fresh scandal, following a letter he wrote to the GGM, Crude oil marketing division of NNPC, dated 17th April 2020, impersonating as the President of IYC world-wide, wherein he blackmailed the firm under the guise of the IYC and Nembe Se Youths assembly with threats of oil pipelines bombings, if they fail to meet up his demands, NAIJA LIVE TV gathered
Eldred in his letter, claimed to be seeking for paliatives for Ijaw Youths, according to him, to cushion the effect of the Covid-19 pandemic and calm the tempers of the NEMBE SE Youths Assembly not to blow up oil installations.
Parts of his letter reads as follows:
"In respect to the threat by the Nembe Se Youths and other notable groups within the Ijaw ethnic Nationality to blow up oil pipelines, i have used my office as the acting President of Council and a critical stakeholder in the Ijaw struggle to compel the aggrieved youths to sheath's their swords and embrace dialogue.
" Sir i have monetized the demands of this groups, total proposed estimate: 1. The Ijaw youths council across the states of the Niger Delta #25,800,000 2. Nembe Se youths assembly and other notable groups #18,000,000."
The development has sparked a new wave of controversy amongst members and leaders of the IYC, especially at this time of it's transition, where the Electoral body is planning to elect new leaders, following the tenure expiration of the former.
Investigations reveals that the NNPC has tipped security agencies of the development, and agents have already been dispatched to protect oil facilities in Nembe and other areas.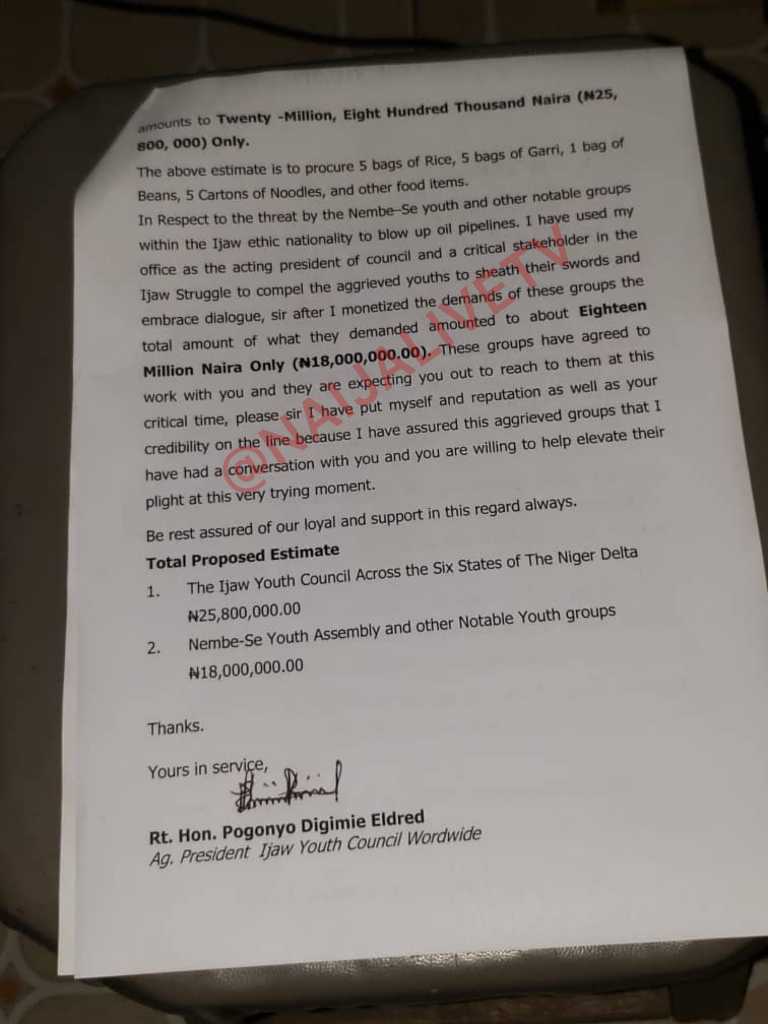 Comments
comments