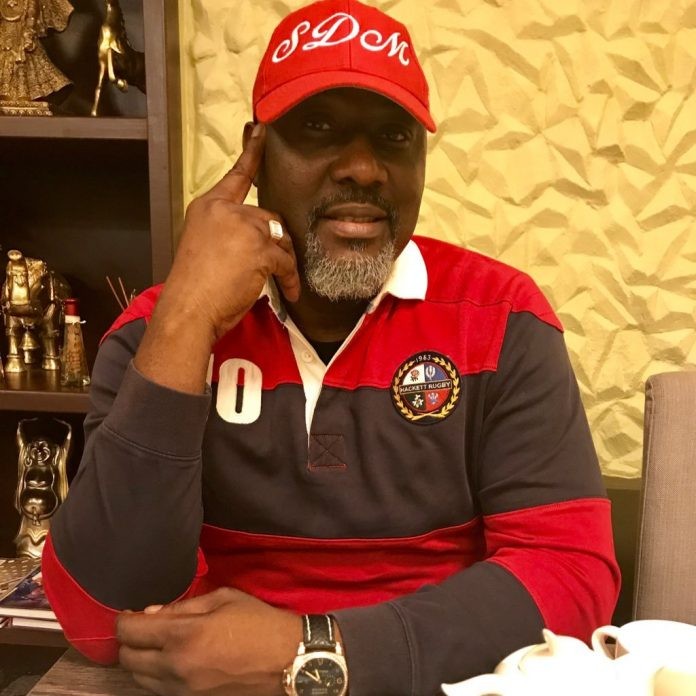 #NaijaLiveTv
Senator Dino Melaye, on Monday afternoon, released a lengthy statement detailing how he was arrested by over 200 policemen and attacked by the Federal Government.
Melaye revealed that he was pounced on by the government for speaking the truth and demanding accountability.
He also thanked the Nigerian people for standing by him, he praised the Senate President, Bukola Saraki, describing him as a man with a vision for Nigeria.
#NaijaLiveTv obtained the statement. Read it below;
"1. Someone once said, that, rock bottom is good solid ground and a dead-end street is just a place to turn around. In the last few weeks, I have been taken to the good solid ground at the rock bottom and they couldn't go further. I have been brought to the dead-end street but with you standing by my side, I have turned around and bounced back to the chagrin of those who sought to seal my lips from speaking out against tyranny, politics of oppression and blackmail. They, unleashed an endless barrage of physical, psychological, metaphysical and emotional torture and assault on me, but, through the power of the Most High, and you the good people of Nigeria, we have once again, seen the triumph of truth over lies and good over evil.
2. It was Edmund Burke who was quoted as saying that when bad men combine, the good must associate; else they will fall one by one, … in a contemptible struggle. I am of all men, a blessed man, to have courageous and dependable people like you as my fellow soldiers in the struggle to free us from the shackles of political strongholds and tyranny. It is to you and my most wonderful and ever knowledgeable people of Kogi State, especially Kogi West, that I owe my deepest gratitude. You stood by me against the state and your own 'best political self-interest'.
3. The state unleashed its raw power on me and released a 200 man-strong fully armed policemen – on a man without a knife nor a bullet. It did this because I called injustice by its name and called for accountability. For this they sought to break my spirit and destroy me permanently. In their moment of reign, I was fully shackled. With my hands tied to my back, and hurled into a dark solitary confinement waiting for the butchers knife, you, my people stood by me. You came against a raging fire and stood up against tyranny, lies, filthy lucre, injustice, persecution and greed. While in the dark and unable to fight for myself, they sought to take my mandate, which you had freely given to me. But you answered back and quenched deceit in its wake. You stood resolute and unflinching and defended your mandate to me. I thank you from the bottom of my heart. In their attempt to break me, they have made me stronger.
4. To you my indefatigable leaders; my irremovable President of the Senate, a man of immeasurable vision for Nigeria and true fighter for the enthronement of true democracy and the rule of law, Sen. (Dr.) Abubakar Bukola Saraki. The fearless Speaker of the House of Representatives, Rt. Hon. Yakubu Dogara, I thank you both for your steadfastness in the defence of the Nigerian Constitution and the enthronement of the Rule of Law, justice and equity and the emasculation of anti-democratic forces and tyranny everywhere in Nigeria. I am eternally grateful to you.
5. To the entire National Assembly Membership, especially my colleagues in the Senate, I am eternally indebted to you for not playing politics but standing courageously against oppression and terror. You have shown yourself leaders on whom Nigeria's hope for tomorrow can be assured.
6. To you our governors, ministers, my dear Okun people and leaders, the National Chairman and Kogi State Executive of the PDP, leaders of the Diplomatic Corps, opinion leaders, Chief Mike Ozekhome SAN, Chief Ricky Tarfa SAN, human rights lawyers and activists, and all my well-wishers and lovers of democracy in Nigeria; the Christian and Muslim Community, all of you that visited me in the National Hospital, after I was injured and subsequently detained at the hospital. I thank you all for your steadfastness in the defence of due process and the rule of law. I also thank you for your courage and solidarity.
7. Our ever foresighted and courageous civil society leadership, the media, leaders of thought across the country, our hard-working youth for whom I will give my last blood, our loving mothers and sisters, I lack words to express to you my profound gratitude for the unbreakable chord of love that binds me to you through thick and thin. You have strengthened my resolve and hardened my flesh against those who seek to devour and make meat of me. You have once again proven to me the axiom in the saying that "in prosperity, our friends know us; in adversity, we know our friends." I am very grateful. For your sake, I remain unbowed.
8. I know many of you worry about my safety and life in this new dispensation where life is no longer sacred in Nigeria. But do not be troubled. My bond of love for you, my good people, makes it impossible for me to consider my self-risk, safety, comfort or opportunity in my unflinching commitment to stand up for you, to stand up for truth and if necessary die for the truth and the emancipation of our people from the chains of poverty and oppression. Though they raise spurious allegations against me, bear false witness against me, though they seek to frighten me and lure me into their bounty of evil, I will fear no foe.
9. Yes, my traducers and torturers wish that I keep quiet; though they seek to seal my lips, to silence my voice forever, I remain ever more resolute and committed. I am committed to this cause for which I am a politician; the cause of the down trodden, to speak truth to power and stand against oppression and injustice. On these issues there will be no compromise. I owe no apologies and I tender none.
10. Like I have always said, you speak the truth, you die, you don't speak the truth, you die. I have chosen to speak the truth, dead or alive. Rev. Martin Luther King Jnr., once said, "Cowardice asks the question – is it safe? Expediency asks the question – is it politics? Vanity asks the question – is it popular? But conscience asks the question – is it right? And there comes a time when one must take a position that is neither safe, nor politic, nor popular; but one must take it because it is right."
11. To my people, I promise you this and this only. I have taken my position, I will not hold back, I will not hold my peace, I will not be shut down, neither will I shut-up, not as long as injustice and falsehood continues to reign, as long as I will live, I will not bow to Baal.
12. May the Almighty continue to keep you all and be your bulwark until victory is assured. Once again, I thank you all so much.
13. God bless you.
14. God bless the Federal Republic of Nigeria."
Comments
comments