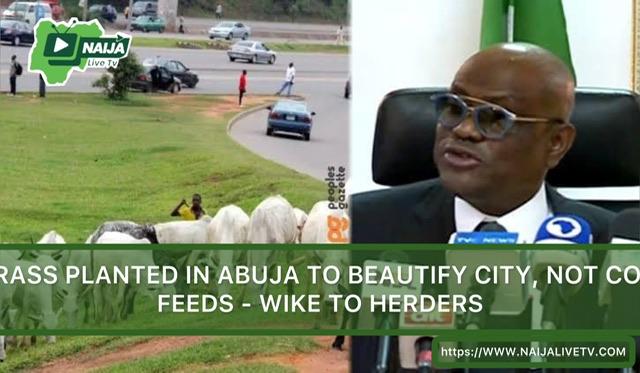 The Minister of the Federal Capital Territory, Nyesom Wike, has vowed to put an end to the practice of roaming about with cattle in Abuja's city centrex by herdsmen.
Wike, in his first press briefing after his inauguration as minister, said the sight of cows grazing in the federal capital embarrasses Nigeria.
"We will consult and talk to the herdsmen because we cannot allow cows inside the city. They can be outside the city, that is the way it's supposed to be done, because the grasses are outside the city, the grasses here are planted to beautify the city, it is not that one that the cows would eat.
"Let us say it! You are driving towards the villa and you see about 20, 30 cows or goats, if foreigners come and see that, how will they feel, what kind of city is this. So the truth must be told, its not about anybody. We are not saying it shouldn't be in Gwagwalada, Abaji, Kuje.
"I will step on toes, if you are doing anything wrong. I will deal with it. I'm here to work for the FCT."
Earlier this year, the Federal Capital Territory Administration vowed to seize cows and prosecute herders grazing in the city.
Comments
comments