Egbesu is the god or deity of justice of the Ijaw people of the Niger Delta region. Egbesu is also perceived as the spiritual foundational force for combating evil. The Egbesu force can only be used in defence or to correct an injustice, and only by people who are in harmony with the universe.
The general perception of Egbesu is that of a god of justice and just war. The devotees of Egbesu are forbidden to shed the blood of a harmless innocent person just as they don't associate with women in their menstrual cycle. Any form of sexual adventurism in the name of civilisation is forbidden; their attitude towards sex is the conventional type devoid of adventurism.
For a would-be devotee of Egbesu on a visit to the temple, he must undergo a purification/sanctification ritual that involves immersion in waters. Before the immersion in waters of the sea, the person confesses all his atrocities committed over the years coupled with a promise to live a pure, unblemished, life henceforth. After the confession and sanctification-immersion, the votary of Egbesu becomes unassailable to firearms, bombs and any other form of destructive spiritual concoction. Subject to his wish, he becomes armed with the power of invisibility.
A votary of Egbesu is tutored by the king of Egbesu to hold only positive thoughts. Any subsequent transgressional infraction on the parts of a votary in relation to the sacrosanct codes of Egbesu, all the hitherto existing mystical powers of the person desert him immediately.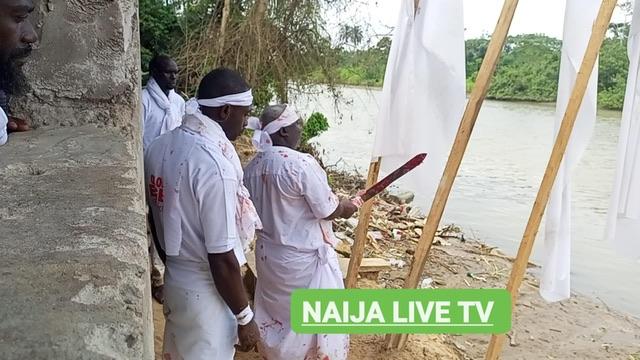 For votaries of Egbesu, the karmic consequences of transgression is immediate. This is why only pure-hearted persons visit the temple of Egbesu. Its powers and assistance are open to all persons of any religious, mystical philosophical and theosophical persuasions. It is an avenue for channelling of one's spiritual dimension, but not without a demonstrated purity of mind equivalent to white cloth – a central directional code of Egbesu which Ebi Yeibo unambiguously awakens the public to in his poem 'The wide road':
Whoever courts the mystery of Egbesu*
Must present a white petition –
The white cloth has no hand
In the massacre of blood brothers
Not even a distant mortal
Not at crossroads with the light
Or out to mortify the white race –
A white heart needn't fear
The mystery of the white cloth.'
(The Fourth Masquerade, 92)
Egbesu, from which terms such as Egbesuism, Egbesucalism, egbesuisation, egbesucalization, egbesuise, egbesucalize, Egbesuical, egbesucal, Egbesutology, egbesutologist, egbesutologize and egbesutological have emerged as neologisms, is not a religion, neither is it a satanic gathering of cultists, ritualists, cannibals, killers and criminals though it may not be totally wrong to view it as a religion.
As held by akparemotologists, egbesutologists and intellectually-minded lovers of mystical excavations, Egbesu as a god of just war, a supernatural being that had incarnated on earth before, but now away, having acquired mastership over his weaknesses, it is constantly attuned to God and the universe. Now in possession of the Lost Word discovered through series of incarnations and mastership over weaknesses, and in constant attunement with the cosmic and the cosmo, Egbesu has been transformed into a god from whom spiritual direction can be sought and charted, only with a pure mind, as it is done by Tompolo, Great Joshua Maciver and others. This perception of Egbesu held by akparemotologists and egbesutologists places them on the same wave length with Rosicrucians and Egyptologists who are grounded in mysticism, particularly the rung reserved for gods and God in cosmological studies.
The demand simply presented here is that Egbesu does not enjoy any metonymic association with JUJU, FETISH, LUCIFER, SATAN, DEMON, or ORU as it is izonically called or named; it is a human being invested with supernatural halo having cleansed itself of all human impurities, imperfections, lethal protuberances, through phased incarnations on earth. For those who suffer deficiencies in cultural studies/knowledge, Akparemotology, Egbesutology, Egyptology, philosophy and mysticism, even after all these researched-based revelations, they would still presumptuously associate the Ijaw Egbesu with fetishism and juju and thereby deny themselves the joys and benefits of positional reversal subject to superior presentation or offering.
In a country where even the preternaturally indoctrinated, base, paranoid, schizophrenic, pachydermous, prejudicial, malignant, rudderless, vindictive, insouciant, insular and exploitative ethnic CARTOGRAPHERS of marginalization, balkanization, enslavement and impoverishment throw the doors open to search, investigation of the mysteries of this world, their experimentation of these findings, the practical application of these findings to the challenges of life as the plinth for expression of one's spirituality or spiritual dimensions, why should some intellectuals, religious bigots, delirious devotees of God shorn of logically analytical open mind, who are consequently injected with the gene of indoctrination, demonise, deface, Egbesu, as a mystical force unworthy of spiritual partnership as a part of man's continual search to mount the rungs of the celestial Immensity, be at peace with the ever incomprehensible Divine Intelligence and quicken the process of reintegration of the prevaricated beings? Whether or not, positional reversals emerge from the corners of ideological doctrinal NARCISSISTS, the devotees of Egbesu see Egbesu as a divinely-endowed supernatural messenger. The devotees see Egbesu as a messenger to God; all their petitions are channelled to Egbesu in the name of God.
The devotees are dedicated believers of God. Egbesu is a theosophical school of thought, a philosophical, mystical movement that brings together persons who fear and have sublime respect for God. Its core doctrines, tenets, codes, are not at war with biblical principles. They use natural and spiritual principles to guide their relationship with God through Egbesu.
TO BE CONTINUED…..
Comments
comments