#NaijaLiveTv
Barely 24 hours after the National Drug Law Enforcement Agency (NDLEA) impounded four tonnes of Tramadol capsules at the Murtala Muhammed International Airport (MMIA), the Nigeria Customs Service (NCS) has also seized the same banned substances at the airport.
This time around, Customs impounded 180 cartons of the drugs worth $181,000 at the import shed of the Skyway Aviation Handling Company Limited (SAHCOL).
Customs source said the substance, which is equally above the recommended milligrams of 50 and 100m, was seized on Friday at the airport.
The source said the product was handed over to the National Agency for Food, Drugs Administration and Control (NAFDAC) by the Customs Area Comptroller (CAC), Airport Command, Mrs. Jayne Shoboiki through its Deputy Director, Mr. Udoekpo Ekpo for "further necessary action".
The source said that Ekpo commended the Nigerian Customs for cooperating and collaborating with it in the area of intelligence sharing, stressing that the agency would continue to rid the country of illicit drugs.
The source said: "These banned items were discovered at the SAHCOL shed by our intelligence. We have been monitoring it for a while, but the importer did not show up to claim it. So, we have to impound it and hand it over to the necessary government agency.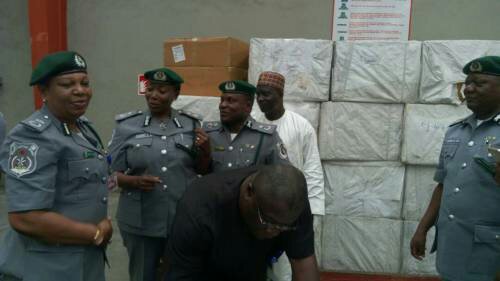 "This simply shows that our intelligence is working and will continue to unravel several of such illicit drugs or items that anyone may want to bring into the country through this airport."
It would be recalled that in the penultimate week, the NDLEA had impounded four tonnes of imported Tramadol capsules at the same airport.
The anti-narcotics agency also said that it was unable to trace the importer of the illicit drugs while no clearing agent showed up to clear the drugs, which was imported into the country in two batches from India.
The seized consignments were imported into the country through the United Arab Emirates (UAE) airline, Etihad Cargo.
Mr. Ahmadu Garba, the MMIA Commandant, told journalistsat the airport that the agency was able to get hold of the drugs through its foreign intelligent partners who notified it of the impending arrival.
He reiterated that the approved milligrams for Tramador by the Federal Government is 50mg and 100mg, but lamented that the seized consignment was 250m, which indicated that the importer internationally imported the high milligrams for wrong purpose.
According to Garba, the first batch of the two consignments arrived Nigeria on April 23, 2018, while the second consignment arrived on April 25 at the airport.
Comments
comments