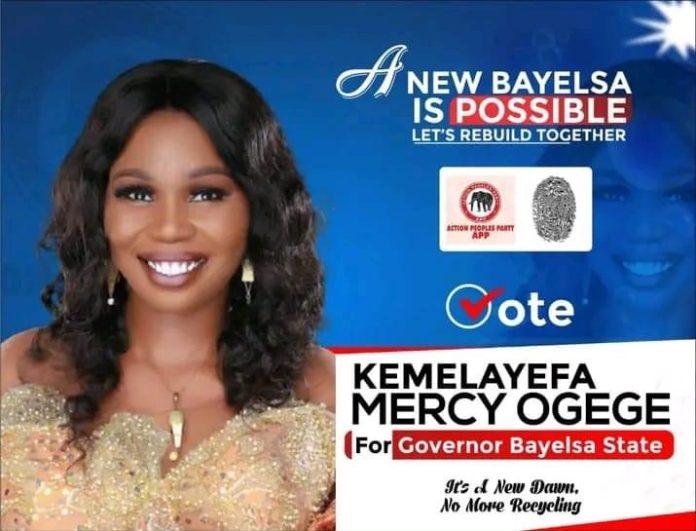 The candidate of the Action People's Congress (APP) in the Bayelsa state governorship elections, Kemelayefa Mercy Ogege, has expressed her gratitude to supporters who voted her despite not buying any vote during the Bayelsa state governorship polls held last Saturday.
Mercy Ogege, through her social media handle noted that though she did not pay a dime to buy votes, she was able to get 14 votes from across the State.
The APP candidate prayed God's blessings for everyone who trusted her with their votes despite not receiving anything from her as she alleged the poll were characterized by "highest bidder get it all".
She said "I try get 14 votes without vote buying, God is too good. E no easy abeg, e no easy at all, with the high level of vote buying in bayelsa I still got some vote without paying a dime, this feels real good.
"To everyone that trusted me with their vote, God bless you. May God bless you all.
"Election should be free and fair, but in bayelsa, it was all about the highest bidder getting it all.
"In my very eyes, l saw people selling their votes for 70k. I weep for bayelsa state. I weep oooo," she added.
Kemelayefa Merc Ogege was among the candidates for the November 11 governorship polls in Bayelsa state which returned H.E, Sen. Douye Diri, as the governor elect.
Comments
comments