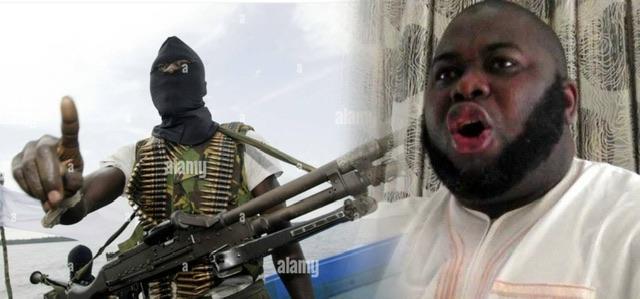 …..Accuses A Fugitive Ex Militant Leader of Plot To Hijack PAP To Install Crony, To The Detriment of Other Ijaws In Delta State… And Niger Deltans
A dreaded militant group, Supreme Egbesu Freedom Fighters of Niger Delta(SEFFND) has thrown it's weight behind the Leader of Niger Delta People's Volunteer Force and Former President Ijaw Youth Council IYC Worldwide, Alhaji Asari Dokubo over allegations levelled against the Nigeria Army and Navy on their involvements in crude oil theft and illegal oil bunkering activities taking place in the creeks of Niger Delta..
Supreme Egbesu Freedom Fighters of Niger Delta in a crucial meeting held in the creeks of Bayelsa State in a statement through its General Commanding Officer, Agadagba 1,popularly known as the River Don said the allegations levelled against the military cannot be further than the truth as they are highly culpable in activities of economic sabotage vis a vis crude oil theft and bunkering .
The group noted with dismay that it was disheartening for the military to deny such allegations off wish we all know that there is no way they the military will come out to admit it, when it was very obvious that they have helped the illicit multi billion naira crude oil theft industry to thrive in the country without recourse to the damage such acts have caused the nation's economy, resources and it's environmental degradation.
According to SEFFND "we know those involved and their names can be mentioned and if the federal government without bias carries out thorough investigations on them vis a vis how their postings to the region plays out, properties,bank accounts and luxurious life styles,the federal government will be shocked to discover the damage done to the country by men who swore to protect it"
"However, we must state categorically that not all of them are involved in this illicit disheartening crude oil theft business, but the allegations made by Alhaji Asari Dokubo are not false allegations, nor far from the truth, neither met to garner favour from the government, while we appreciate the enormous sacrifices made by the military under the present democratic dispensation for imbibed in the spirit of safeguarding the territorial territory of our dear nation against all odds" Alhaji Asari Dokubo as a patriot and a core Nigerian statesman has he his, has high respect for the military hierarchy or any other constituted authorities,which he has often displayed,the military is at liberty to investigate the allegations"' .
The SEFFND …."warned disgruntled elements who are to quote Alhaji Asari Dokubo's statement out of context with the sole aim of creating a rift or bad blood between him and law enforcement agencies and the federal government to retrace their steps and immediately desist from such dubious acts as no sooner than later we will catch up with them just a matter of time ".
"We will no longer tolerate and condone such statements and actions which are highly inflammatory diminishing provocative insightful and careless utterances as we may be forced to declare war against them by tagging them enemies of peace unity, stability and economic growth of the country".
"We wish to use this opportunity to state clearly that Alhaji Asari Dokubo is not at war with the law enforcement agencies in the country as he had been in the forefront condemning inactions of hate speeches and insightful statements emanating from some prominent elites and elder statesmen that could create tension, disunity against other Ethnic Nationalities and insecurity without minding whose ox is gored, Dokubo believes in one indivisible Nigeria and stands faithful to his belief as a core muslim in wish the almighty Allah is against lies and disunity, condemning the actions of terrorists groups and insurgents ravaging the Northern and Eastern parts of Nigeria".
"Supreme Egbesu Freedom Fighters of Niger Delta is awash with the self centered activities as exemplified by the leadership of Ohaneze Ndigbo and the Human Rights Writers Association, HURIWA who have been issuing unwarranted statesments based on ethnic bias, religion sentiments and destructive tendencies to misinform the general public.Such statements from Mr Damian Okereke and Mazi Okwu of Ohaneze Ndigbo as well as the National Coordinator of HURIWA,Mr Emmanuel Onwudiko should stop henceforth, and stop playing the ostrich with their unprofessional, unguarded provocative diminishing and misleading informations just to tarnish the hard earned reputation of Alhaji Asari Dokubo who is a patriot and nationalist" .
"Ohaneze Ndigbo and HURIWA should have known that Alhaji Asari Dokubo is not an enemy of the Nigerian State neither is he a threat to the Igbos as they have painted in the Media and social space with despicable work just to blackmail Alhaji Asari Dokubo,we advice them to stop forthwith before the wrath of militants fall on them in wish the onsloght will not going to spare their families and even properties of their fellow brothers from same region".
"It should be known that we will no longer fold our arms and close our eyes, hence we want to make it abundantly clear that we will not tolerate neither condone any further attacks on the personality of Alhaji Asari Dokubo who is well respected Chief in Kalabari kingdom, and in Ijaw Nation, as a Defender of the Niger Delta region, particularly on the senseless calls on the DSS for the arrest of Alhaji Asari Dokubo ,we will go all out to launch calculated simultaneous attacks on such persons and their properties without looking back if they don't reframe and retrace their steps…. enough is enough ".
'To say the least, we are shocked and taken aback that the Igbo social cultural organisation Ohaneze Ndigbo and HURIWA with it's leadership all made up of persons of Igbo extraction have never come out to condemn the senseless devilish activities of the Independent People of Biafra,IPOB and the Eastern Security Network,ESN which has led to the loss of several innocent Nigerians lives,properties and Mass exodus of the people from the east to other parts of the country,they turn blind eyes to IPOB and ESN evil criminal acts despite the bloodbath and killing of military men and innocent citizens without human sympathy "
"Ohaneze Ndigbo and HURIWA think Nigerians are fools,we are watching them,they keep mute when police stations, Nigerian Correctional Centres and innocent business men shops properties are burnt down for no just reason,even when the proscribed terrorists IPOB and ESN founder/sponsored by the so called Mazi Nnamdi Kanu have turned the East to a war zone by crippling the entire economy of that zone, particularly Imo,Anambra, and Abia states to battle fields, what are the response and inactions of these ethnic bigots groups? And who is more of an enemy to Nigeria??The question is left for Ohaneze Ndigbo and HURIWA to answer."
Meanwhile,the Supreme Egbesu Freedom Fighters of Niger Delta has accused one of the ex militant Leaders from Delta State of his desperate moves to hijack the Presidential Amnesty Programme through financial inducement in foreign currencies to the President family and close allies in the presidency in order to appoint one of his cronies to take over the affairs of the Amnesty office for personal reasons best known, wish they tag as moves, detrimental to other Ijaws in Delta and across Niger Delta.
"We are very much aware of the illicit moves for personal aggrandisement aimed as self serving by this so called ex militant Leader in Delta who is lobbying seriously and already sent out his emissaries to the Capital city of Abuja, spending hard currencies to induce whosever to enable him hijack the Presidential Amnesty office for one of his disciples in the creek".
"We strongly condemned in entirety and war these disgruntled elements and their cohorts to stop their self serving desperate moves for the interest of peace in the region because obviously the era of " monkey dey work baboon dey chop " is over where only one man with all impunity work against the interest of all other ijaws for the gain of his family and kingdom in order to allocate all appointments, projects and programmes to only a section of Ijaw nation, this must stop and it will not going to be tolerated under the able dynamic Administration of President Bola Ahmed Tinubu watch,it will no longer be tolerated and condoned any more, because no son of Ijaw Nation or Niger Deltan had the monopoly of violence neither smarter than another, and no one is more Ijaw or Niger Deltan than another".
"Let it be known that the Supreme Egbesu Freedom Fighters of Niger Delta are equal to the task and fully equipped with all arsenals to take on any one without missing target, we are watching" This is not the era of President Goodluck Jonathan where threats gained ground in other to grab political positions and multi billion naira institution or projects to a particular family cronies and kingdom to the detriment of others in Ijaw land and the entire Niger Delta ".
"The Supreme Egbesu Freedom Fighters of Niger Delta hinted that the ex militant Leader from Delta State and his cohorts want to reap where they did not show by trying to hijack the Presidential Amnesty office for themselves, when the entire world, Nigerians and everybody knows the countless tremendous efforts, suucide sacrifices and roles played by Alhaji Asari Dokubo with the likes of Hon.Jude Tabai ,son of retired Supreme Court Judge by sticking their necks for the support of the presidential candidate of the APC, Bola Ahmed Tinubu without minding the threats to their lives and families,name calling that was tagged as Anti Niger Deltans, Anti Ijaws Nation and all sorts of humiliations they faced for standing firm in support of Bola Ahmed Tinubu in the 2023 presidential election Project against all odds." SEFFND added
Comments
comments