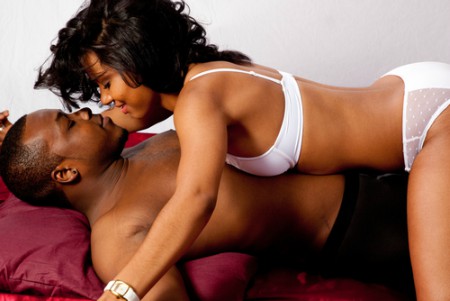 #NaijaLiveTv
Satisfying your spouse sexually is very important if you want him/her to respect you and this has nothing to do with how rich you are or how caring you are. If you are a man or woman who fails to treat your spouse well in the room then you have failed woefully in marriage.
FOR THE MARRIED MAN
You must first sit your wife down and ask her to tell you what turns her on, how she loves to be touched and stop assuming you are a super man. Every woman has different sexual preference and until you know exactly what she wants, you just might be fooling yourself thinking you are doing the right thing for many years.
Ladies can be shy so as a man you really need to make her tell you what she wants in the bedroom and as a woman, don't hold back, tell him exactly your fantasies without any fear.
As a man you must understand that no part of your wife's body is sacred and understand that within the confines of marriage, you have access to explore all her nooks and crannies without inhibitions. If your wife loves mouth action then please her with that, even if she wants the unconventional type of intimacy then oblige her. Note that you are her husband and if you deny her what she loves then where else do you want her to get it?
8 out of every 10 ladies love oral but they are usually shy to tell a rigid hubby and keeping mum over sexual matters is the reason why many ladies in their entire years of marriage will never experience true sexual satisfaction and many ladies don't even know that they also climax as men do simply because their husband is the rigid type. Every man must make it a duty to please his wife so that he will be respected and cherished by her.
FOR THE MARRIED WOMAN;
Have you ever taken time out to ask your husband what turns him on the most about your body and try to flaunt that the more? Have you ever asked your husband how he enjoys been touched?
You may not believe this,but every man has a crazy fantasy no matter how spiritual they can be. Most married men want a bad girl in the bedroom and i mean real bad girl. Leave your sister Mary nature anytime you get inside the room and make him beg for more.
Every part of your husband's body belongs to you, play with it as you like. Many men want their flute blown so don't see this as a sin or sacred but make his head spin and make him long for you wherever he may be and get him addicted to you because men love sex a lot and any woman that gives them a fantastic one will always have them hooked.
Many women make this silly mistake and this is very important to understand. GOD in his infinite wisdom has made it possible that a man with a short flute can give you the greatest pleasure you can imagine and that is why he deliberately placed the pleasure zone of every woman just 3 inches from the opening of her goody bag and what your hubby needs is to understand the type of positions that will make him stimulate that zone.
8 out of every 10 men you see have an average erect flute size of 5 to 6 inches and believe me even a 4 inch flute can give you great satisfaction if the man understands what to do so stop your foolish fantasy of being with a man that has an abnormal flute size that may cause more pain to you than pleasure. What is the use of having access to a flute that your porch can't accommodate easily so no matter the size of your husband's flute, you can make the best use of it. If a short thin finger can pleasure you then a thin short sized flute will do better so stop your baseless fantasy about a bigger flute and make the best out of what your hubby has.
Lets stop depriving ourselves of intimate pleasures as married men and women. Sex is meant to be enjoyed in any way and any form within the confines of marriage so explore it and enjoy your bedroom activities to the max.
For the sexually timid spouse i will advice that you take your second half serious if he or she complains of sexual dissatisfaction else you may lose such to another person.
Don't allow your wife or husband fantasize about another person because not satisfying your spouse sexually is marital unfaithfullness which is a sin and a good ground for divorce..please adjust.
Comments
comments