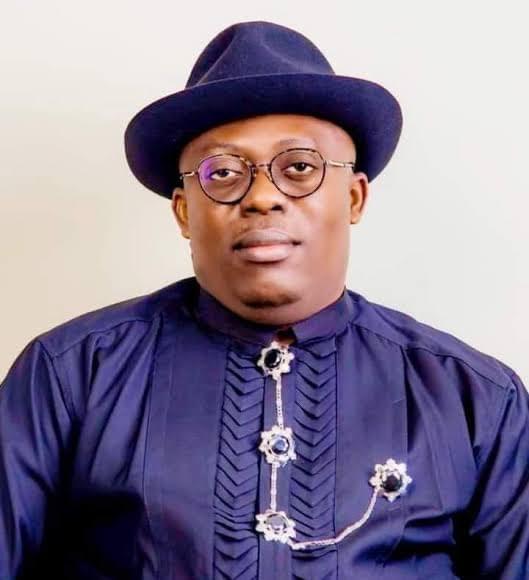 SIR Siminialayi Fubara, Monday, took over from mentor and predecessor, Chief Nyesom Wike, as governor of Rivers state Monday, determined to see Peoples Democratic Party (PDP) keep hold on the reins of power in the state.
Fubara, fondly called Sim, in his inaugural speech following his swearing in by Chief Judge of the State, Justice Simeon Amadi at the Elekahia Stadium Port Harcourt, told the people he is overwhelmed by the spotlight as "Governor for all Rivers people."
Sim said aside consolidating on the legacy of infrastructures revolution by his predecessor, he would address corruption and inefficiency in Rivers health sector, promptly pay salaries, pensions and gratuities to Rivers workers having been one of them, work harmoniously with other arms of government, encourage investments and small and medium scale businesses and with firm political will crush Rivers insecurity and whoever is involved.
"We will provide a strong, determined, focused, purposeful and responsible leadership. Though enormous, we are equal to the task of the responsibility head. My Deputy and I were born, raised educated in this dear state. We are christians and believe in the core value of prayer, hard work, service and sacrifice.
"We worked in the civil service for decades, practically served every government since 1999. Our knowledge is extremely enriched by our life long interactions, connections and service to the state and our people public and private capacity.
"We know Rivers as well as anyone. We know your hopes, expectations, the terrain, development challenges. We see our progress and what more to do to take us higher", Sim told the capacity crowd at the inauguration ground.
In a handover note moment, Wike, the out gone governor in apparent shortest public speech he has ever made, had addressed Sim, "Your Excellency, the Governor of Rivers State, I hereby hand over the flag of Rivers and official handover documents to you. Thank you and God bless."
Comments
comments