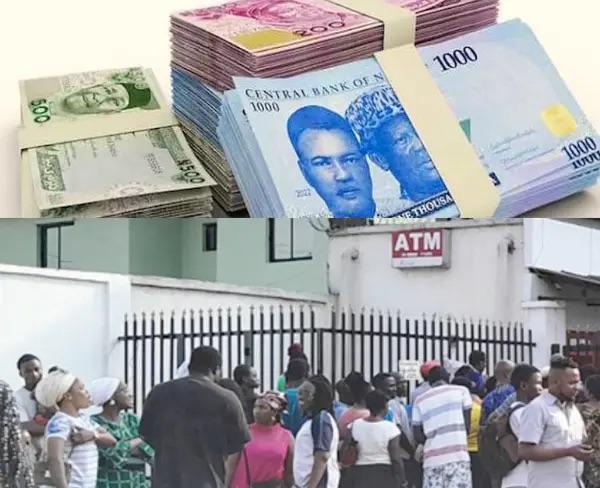 *But new notes remain elusive
*Banks' profit, and performance unaffected
*As their e-banking income surges
*Analysts differ on overall impact
There are indications that the three-month-old cash shortages rocking Nigeria's economy would fizzle out this week following banks' compliance with the latest directives of the Central Bank of Nigeria, CBN, on cash dispensary over the weekend.
This comes as financial analysts disagree on the likely impacts of the cash crises on the financial performance of the banks in the first quarter of 2023, Q1'23.
But findings show that banks are actually set for record high electronic banking income following the massive and widespread shift to electronic payments caused by the Naira Redesign policy.
Nigerians have been made to go through harrowing experiences across all cash dispensing channels following hick-ups that emerged from the implementation of the CBN's Naira Redesign policy.
In further advancing its efforts at redressing the situation, the apex bank, last weekend directed the banks to pick all their cash requirements from the CBN to serve all customer demands while opening their branches for the same purpose on Saturdays and Sundays. The apex bank also relaxed its cash withdrawals policy increasing the limit to N500,000 from N100,000 per week for individuals and N5 million from N500,000 for corporates.
Consequently, Financial Vanguard findings show that as at yesterday the crowd that had thronged the banks on Friday and Saturday had redused while most ATM points were active as against the near zero activity recorded in the past two weeks as the ATMs were all without cash.
However some bank officials who spoke to reporters indicated that they still expect much pressures today and tomorrow if what they experienced during the weekend is considered. But they also expressed confidence that the situation will improve this week and probably be completely resolved by weekend.
They explained that though they have started receiving more Naira supply from CBN distribution across branches will not be done fully until the middle of this week m a situation which will make a cash supply to customers to be restricted temporally.
Checks in Abuja and Lagos have revealed that although there are still long queues at the various banks and ATMs, there is improvement in the disbursement of cash to customers.
But almost all the banks and channels were dispensing only the old naira banknotes.
Checks show that banks are complying with the directive with varying degrees of outcomes.
A branch of GTBank in Festac Town on Saturday, when visited, attended to customers by paying N40,000 to its account holders while paying other banks' customers N20,000 via ATM.
The same situation was recorded at a nearby branch of Stanbic IBTC, with account holders able to withdraw N40,000 while other bank customers were able to withdraw between N10,000 and N20,000, depending on the bank.
It was reliably gathered that Providus Bank paid its account holders as much as N100,000 over the counter on Friday. A customer named Stella confirmed in a chat with our reporter at an ATM point. This could not however be independently confirmed.

We also saw customers being attended to at a branch of FCMB within the axis.
However, a branch of UBA, when visited on Saturday morning, was not paying cash but attended to customers that came for other transactions. An official of the bank however assured that they were expecting cash and promised to start disbursing as soon as available. But customers who met at the bank confirmed that they were able to withdraw N10,000 on Friday.
The customers who spoke to reporters believe that if the disbursement across the banks continues at this renewed pace, the situation will normalise within one or two weeks.
Banks unscathed
As the storm seems to get down, banks that are at the centre of it all may emerge unscathed as almost all their income lines appeared unaffected.
Meanwhile, financial experts have been focusing on the likely impacts of the Naira banknote crises on the financial performance of banks as they round up their first quarter 2023, Q1'23, business.
While some believed that the effect would be negative given the attendant slowdown in economic activities, others argued that it would have a marginal impact as the crisis did not affect interest income and commission income, which are the major revenue stream of banks.
Commenting, David Adonri, Vice Chairman, Highcap Securities, explained that the slowdown in economic activities occasioned by the cash crisis, which also impacted banks' operations would be negative on their financial performance in the Q1'23.
He noted the challenges with mobile payment during the period which resulted in a deluge of failed online transactions.
The Nigerian Interbank Settlement System (NIBSS) had, in its February 2023 e-payment data report, revealed that the value of electronic payment transactions fell by four per cent Month-on-Month (MoM) to N40.6 trillion in February from N42.4 trillion at the end of January.
This is despite the surge in e-payment transactions, which led to increasing in the volume of e-payment transactions MoM by 29 per cent to N1.45 trillion in February 2023 from N1.12 trillion at the end of January 2023.
Adonri said: "Cash scarcity in itself is a big blow to the banking business. The inability of banks' mobile payment systems to function efficiently has an adverse effect on their business.
"Slow down of commercial activities in the economy will also affect banking business negatively. Banks' financial performance in Q1 2023 is expected to decline."
However, Gafar Bashiru, Senior Associate at Parthian Partners, disagreed, saying: "Cash crises will have little impact on the banks' Q1'23 performance because, generally, when it comes to the banks' revenue streams, the key lines are deposit from customers, interest income, commissions income and business. These lines, to me, are not directly affected by the cash issues that is happening."
Commenting also, Prof Uche Uwaleke of Nasarawa State University, said: "I don't think it would have any significant negative impact as most banks are, on the contrary, making huge income from non-interest sources such as electronic transfers and related charges which surged on account of the currency redesign policy. "
In his own reaction, Tajudeen Olayinka Managing Director/ CEO, of Wyoming Capital and Partners said: "Somehow the cash crunch will affect the bank's earnings but marginally as they would make money from other sources apart from deposits. However, the sectors that would be very much affect by the cash crunch are manufacturing, petty traders etc.
"The consequences of the cash crunch would affect the GDP negatively given that manufacturing, trading, agricultural output and sales are already affected.
"Manufacturers Association of Nigeria, MAN had already revealed that the protracted scarcity of naira notes has led to a 25 per cent drop in sales of manufactured goods. The current naira scarcity and the pressure the cash crunch has put on online transactions have negatively affected the free flow of goods."
Commenting as well, Managing Director/CEO, APT Securities & Funds Limited, Mallam Garba Kurfi said: "Generally most of the companies performance for Q1 2023 are likely to show poor performance due to lack of cash which affected most of their performance both formal and informal businesses which will affect their turnover, Profit before and after tax. Also the increase in the prices of PMS which affect business that will push the cost high and the lock down due to election dates all will have negative performance influences on companies."
E-payment to boost banks' income
Banks are set for record high electronic banking income following the massive and widespread shift to electronic payments caused by the Naira Redesign policy.
Since January 31st the initial deadline for the use of the old N200, N500, and N1,000, access to cash had been increasingly challenging, a situation that compelled individuals and businesses to use electronic payment channels for payment of goods and services.
Consequently, the volume and value of electronic payment transactions rose by 63.3 per cent and 33.4 per cent in the first two months of the year.
According to the Nigerian Interbank Settlement System, NIBSS, the volume and value of electronic payment transactions rose to 1.539 billion and N77.65 trillion in the first two months of the year. This represents a 63.3 per cent and 33.4 per cent increase when compared to the 943.17 million and N58.2 trillion recorded in the same period of last year.
This trend is in line with projections by analysts at Cowry Asset Management Limited which said, "The transition to a cashless economy will be majorly driven by the naira redesign and cash swap initiatives of the central bank, as most Nigerians will adopt the use of electronic payment channels for business and personal transactions, which may further lead to a decline in presence in the banking halls."
This development according to analysts at FBNQues Capital Limited will translate to a significant boost in electronic banking income, which represents 6.9 per cent of the earnings of the five Tier-1 banks in the nine months to September 2023. The five banks recorded income of N188.57 billion from electronic payment services in nine months to September 2023 while total revenue stood at N2.71 trillion during the same period.
Confirming this development, Head of Equity Research, FBNQuest Capital Limited, Tunde Abioye, said: "I believe commercial banks' e-banking income for banks should be robust in Q1 due to the surge in electronic transfers following the cash scarcity.
"Also, I assume that banks are generating some income from the free float that they are currently enjoying from customers' inability to access cash.
"Both topline and bottom line growth should be strong because funding (interest) income will benefit from the high-interest rate environment as banks re-price their risk assets."
Comments
comments