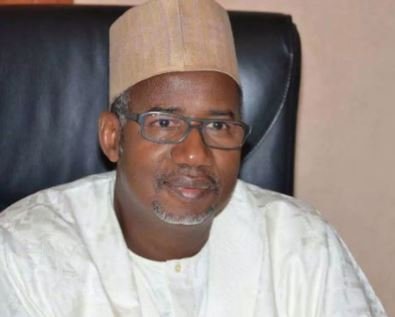 Governor Bala Mohammed of Bauchi State has tackled his Sokoto State counterpart, Waziri Aminu Tambuwal, for rejecting his (Mohammed) emergence as the Northern consensus candidate for the Peoples Democratic Party (PDP).
NaijaliveTv recalls that the Northern Elders Forum (NEF), following the directive of former Military President Ibrahim Badamosi Babangida, had selected Bala Mohammed and former Senate President Bukola Saraki over Tambuwal and Mohammed Hayatu-Deen as the candidates for the North.
READ MORE: Why Bukola Saraki Is Pushing For PDP Consensus Presidential Candidate – Aide
Leader of the Forum, Professor Ango Abdullahi, stated that the duo were selected after going through a rigorous selection phase and scoring the highest number of votes.
Following the election, Tambuwal had, through his campaign team, rejected the outcome of the arrangement.
The governor stated that the decision of Ibrahim Babangida and NEF would not stop him from carrying out his ambition to succeed President Muhammadu Buhari.
The Sokoto State Governor accused Bukola Saraki of orchestrating the purported endorsement.
But reacting to Tambuwal's outrage in an interview with Channels Television's Politics Today on Sunday night, Bala Mohammed stated that if the Sokoto governor had emerged the consensus candidate, he would be singing a different tune.
While expressing gratitude to those that voted for him, Mohammed said Tambuwal was carried alongside in the process that produced him and Saraki.
The Bauchi governor stressed that he was imminently qualified to succeed Buhari, but he is willing to step down if Saraki can convince him he (Saraki) is the better candidate.
Meanwhile, Bala Mohammed has asked Governor Nyesom Wike of Rivers State to show humility as he battles for the ticket of the PDP.
The former FCT minister reacting to Wike's boast during a meeting with Anambra delegates that he remains the only qualified candidate to defeat the APC.
READ ALSO: PDP BoT Sets up Committee to Pick Consensus Presidential Candidate
Reacting, Mohammed said he is also very qualified to ouster the ruling party come 2023.
According to the former Senator, a more qualified candidate than him and Wike may be out there and has not declared yet.
He, however, maintained that he is willing to back whoever emerges as the presidential candidate of the PDP after its primaries.
Comments
comments