Pastor Ebizimor Diriyai is a legal practitioner and the flag bearer of the Accord Party in Bayelsa State. In this chat with NAIJA LIVE TV in Yenagoa, he bare his mind on the issues of the coming November 16th Governorship election, his plans for the state and expectation from the INEC and Security agencies during the poll.
Excerpt
Bayelsans are talking about the two major parties in this election, as the candidate of Accord party, what surprise do you have for Bayelsans in the forth coming election?
In fact, from what I saw and the feedbacks am getting from the recent governorship debate, tells you that the so called big parties are just carrying names. As the candidate of the Accord party, I stand a better chance of becoming the next governor of the state. I am not a 3rd force. Am in the mainstream and that is why I will not relent in my consultations and door-to-door campaigns so that when Bayelsans go to poll by this November I will be their only choice.
What are your plans for Bayelsans?
Like I always say, any time am asked this question, I have a mission and vision to transform Bayelsa. Most times, some politicians just do wonderful write ups and just read it out. It is beyond that, I have it already in me, so I will birth them when I come on board. Bayelsans need total transformation and we will do that in every area.
Talk of Insecurity in the state, the issue is bordered on a lot of factors like unemployment, lack of power and poverty among others. I don't always want to accept that Bayelsa is as bad as its been painted. I always like to make references, I have travelled around the whole and have seen incidences worst than what we have in Bayelsa and nobody talks that, what we have are pockets of crime that can be handled. We will deploy technology to curb them all but in starting we must create employment for the people "there's this popular saying that an idle mind, is the devils workshop". Our people must be employed, either self employment, or through private or public organization. We have to create an enabling environment to ensure companies come to the state.
Like I said during the debate, we will build refinery and a petrochemical plant. We already have a private individual building one in the state which means its possible. We also have two in River state and a petrochemical plant too. We will do same here in addition with a fertilizer plant, and I will also talk to the Minister for petroleum that the LNG must come back on stream.
The Bayelsa palm will be repositioned, Bayelsa is the only state that has an oil well which is a very lucrative and viable oil well that can generate so much revenue, which means that with such monies we can fast track industries to employ more youths. We also have tourism potential that will engage more youths. Bayelsa is so rich that we don't have to complain that we don't have money, and our youths remain unemployed. When we come on stream, we will ensure jobs look for our youth rather than them looking for youths. When we have all this happening it will eliminate crimes completely.
On power, I will ensure we have 24 hours power supply in the state, we will ensure we face it as a priority because once there's power darkness is not safe haven for crime. Still on the employment, for those who are skillful, we help them develop their skills. And those who are out of school will be enrolled and unemployed graduates will get jobs. We will create incentives to make them have a stake because when they believe that they are stakeholders they'll buy into the vision. We have large farm land, we are so bless with natural resources.
Many have complained about the poor security in the state, what is your plan to improve security of lives and property?
On security, you know security architecture is not what you discuss in the open because we won't want them to know our plans.
Over the years successive Government have battled with the issue of cultism, and after adopting a lot of strategies it seem to have failed, what do you think will be done by your administration if you come to power?
It still boils down to the same thing called idleness, I went through a university and I know so many people who were in cult on campus, now they are now" rich men" and they still belong to the cults but we don't see them fighting rival groups, that is why I say poverty and wrong mindset is a big factor. You can easily use poor youths to cause crisis, but when they work in shell I don't anybody can lure them to go hit someone else in Port Harcourt and he'll respond when he has a responsibility. Most times we tackle things from the root, I made a 3rd class and got a pass in law school but today am not talking like a 3rd graduate because I went back to develop myself. It is my dream to see that Bayelsa youths are developed.
Am going to take the issue of education seriously, because we want to have inventors, our youths are so hard working. It takes a very strong mind to be able to navigate our creeks, and even think of the crime they carry out in the creeks. That means if their energy is channel to other things we will have positive results. We will down play on their weaknesses, and emphasized on their strength and let them know it won't take them anywhere. We will ensure there's no patronage in cults related activities so it will die down.
The election is just few days from now, are you hopeful that INEC will conduct a free, fair and credible election in the state?
INEC is an unbiased umpire, I don't think they'll want to give the commission a bad name. If INEC has no plan on conducting a free and fair election, they would have told us from the beginning that they are supporting a particular party and there was no plan for a credible election. I believe that am going to win, and that is why am in the race, if I don't I won't have bordered myself, and I will follow it to the end and I will win.
A lot of people are speculating that vote buying will decide the fate of this election, do you also have such fears that vote buying will play a major role in this election and your message to voters?
I think people have learnt their lessons, I use to say that if a person makes an error the first time its called a mistake but if repeated it called foolishness. They have seen what vote buying has caused them, nobody will buy anybody's votes again because I don't think our people want to suffer again. You sell your votes for N10,000 for four years and the person forgets you, it means that the individual is earning six naira a day for the four years, tell me is that what Bayelsans are worth. What I have discover is that it is a deliberate act to impoverish the people so that the next election they bring out money again and buy their votes.
My advise to the people that want to sell their votes is to remember the principle in the Bible about Esau who sold his birth right. Don't sell your votes because its your right to a better future. Desperation which is vote buying is a sign of failure and nothing else, so don't sell your votes.
Let's look at the issue of flooding,  in Yenagoa we suffer flooding, if elected what will you do?
I mention this during the debate, the issue of flooding is of two types, the first is rain flood aspect, Bayelsa has a master plan and I don't want to blame anybody. Am sure when the master plan was been been developed, some of this were taken to consideration. If this part is lowland and you make the DPC high when building, so that when the floods comes your house will be in the water but the water will not enter the house. Like the principle in Venice in France, they live in water and know their terrain and tackle it the way it is.
This issue of flooding won't have been a problem if properties were not destroyed. Look at the master plan what and what has been distorted and what has been uttered, then we'll start by correcting the mistakes.
Then on the perennial flooding, I have always said because it known they send warning in advance from neighbouring countries to open their dams, just because we are sleeping doesn't mean they shouldn't open their dams. Netherland has similar terrain like Bayelsa , they are below sea level and doesn't flood while Bayelsa is not below sea level but we are always flooded, so we need to ask them what they did to over come the flood.
There's a university in Netherland that focuses only on their terrain, we have universities that we can bring to teach our universities so that we can get it right in Yenagoa. In return our own universities we"ll use our experts to get it right in the other LGAs, people from Adamawa can now come to us and our lectures will go to Adamawa as consultants and we'll make money for the school.
This issue of flooding can be addressed, because the easiest way to succeed is to follow someone who has succeeded in the same thing; like mathematics where you use principles and examples to solve equations. It will amazed you that most times after flooding and the water empties into the ocean, it shows the water has where it can recede to, then why not channel it to where it can go. We must find a permanent solution. Whether you like it or not it slows down economy, we must talk to the Dutch on flooding, it will amazed you that they already done the area mapping of the state and what was left is who to implement it.
In the country when a new party takes over, there are fears that projects done by previous government are abandoned which does not help sustainable development, what are those projects you think you can continue if you eventually win?
What I always tell people who care to hear is that, the current governor has done some projects that may not be able to complete before leaving, the monies used for the projects are our money and if I abandon the projects that means I have wasted the money, so we must complete them. Continuity is not only if you are in PDP, it is when a government starts a project another must complete it.
For instance, the Airport ; what we can do before we start using flight, we have to start flying to some platforms to Bayelsa, because to fly to Bayelsa you have to fly first to Lagos so we have to stop that. I have spoken to an Aviation college where we will lease part of the Airport for their base and they'll employ our people and also get tax. They'll will also train our children on how to fly. They will make their monies from services from the oil and gas industry. You see one part is now functional pending when the flight business starts. We can speak to Arik that has small aircraft that can fly three times a week to the state.
We can also copy how Akwa-Ibom got their own right, but first and foremost we will start with the aviation college, which will create employment, service oil and gas to get tax, and airport will be operational but if we leave it this way grasses will grow and cover it.
What is your plan for the women, you know there's always agitation for 35% affirmative action, and also agitation of including youths in governance?
It boils down to the same thing, when I was in law school the best student was a female, people want to compensate laziness and we'll not allow them lag behind. The brain of a woman and that of a man is the same. Look at Okonjoewela who came and turned our economy around. In the area of education we will focus on the girl child education which is very important. Also adult education, because its common to see house wives thing, we will ensure 5pm after their markets they'll attend classes. We must include everybody, we will have a quota for the girl child. We make them challenge their male counterpart, because this segregation that you must create 35% makes them feel whether we do well or not we'll still be part of the process.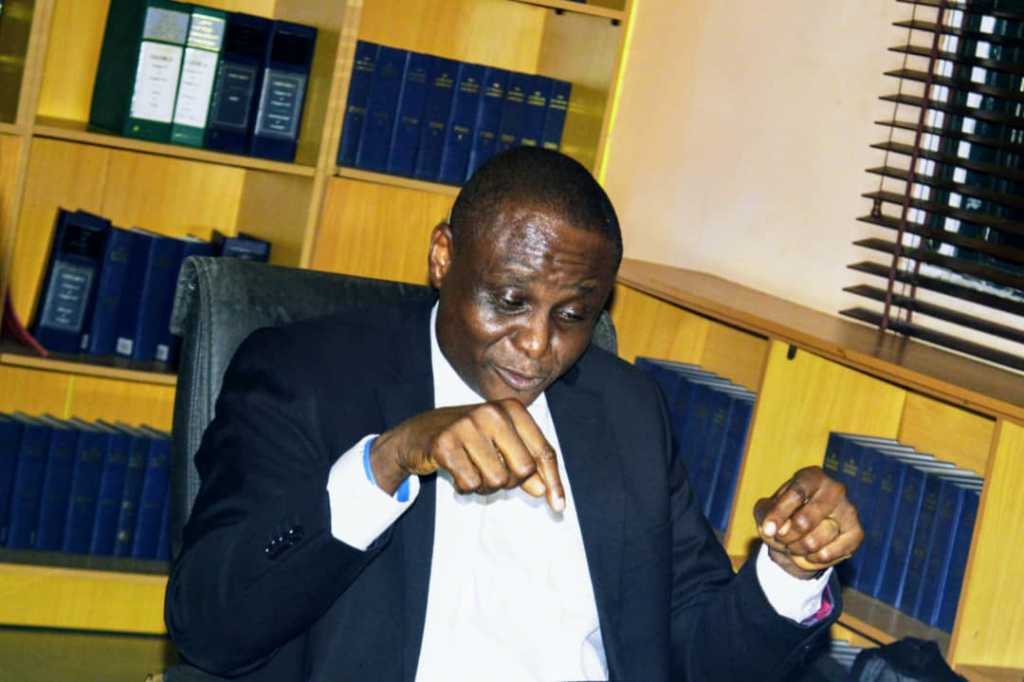 You have talked so much on collaboration and partnership to drive the Bayelsa economy forward, let's take a look at the issue raised by the APC that they must be a connection between the state and the leadership at the centre before things can work better, as Accord party candidate, will you ascribe to that?
I will give you an example, Fashola was governor in Lagos State when the PDP was at the centre, he did very well and everybody accepted he did well, when someone is failing he begins to look for who to blame and give excuses; there's no way that President Buhari will see what is happening in the state and not support it. It will be a pride to Nigeria, Dubai is a state in the Emirate but people will know about Nigeria because of Bayelsa. We want to build a refinery and petrochemical plant and you say the people will fight it, not at all. It will be a reasonable and responsible government; ruling party or not, if there's something in your head they'll listen. That is why during my consultations I spoke with stakeholders of the PDP and APC because the project is beyond party but for Bayelsa to work, and it must work. Whoever is in power must attract things for us, it is not who does it but its our Bayelsa. My main focus is Bayelsa and Bayelsans and not a personal thing, which is my drive.
You appear to have so much passion for education, any different thing to offer in that sector?
Bayelsans know what they want, and i'm the one that can provide that. See my educational programs, we must have free and compulsory primary and secondary education, because that is the formative stage of a child. Why its free is because you must go to school then compulsory we must implement it. We have people in the ministry that will ensure student and pupils go to school and not hawking for their parents when they are suppose to be in school.
Vocational skills, most times we tend to laugh at the people that can't read or write but give that same person a phone he will dismantle it and fix it back, that means we'll emphasize on skills. We look out for the skillful people and encourage them to make them upgrade to world class.
Then the physically challenged must also have schools, they can't be left out because they are gifted. We will have E- libraries, we crash school fees because we can't allow the burdens remain on the parents. We will also increase subvention to the universities, search for ways to get grant and aides to fund the universities. When a child can't compete with peers he may dropout and goes back to the society and engage in crime. We will partner with schools abroad to concentrate on specific area like tropical diseases like Malaria, and we don't have universities that focus on tropical medicine. Like a school in Liverpool that has a department on tropical medical, we'll ensure they cone to Bayelsa and have a centre, then Bill gates and Belinda gates foundation that have been talking about malaria can function in the state, with us creating a department on tropical medicine in partnership with the university if Liverpool funding it.
On health care, you don't have to come to Yenagoa, the state capital to have quality health care but we will take health to the door step of our people. We have already started making contacts to get state of the art modern equipment, not obsolete for the hospitals. There's no hospital in this region that focuses on internal medicine. We will also focus on urbanization because we must get it right, so that crime will be a thing of the past.
Finally Bayelsans, you know what you want and give me your votes and I will deliver all what you want. Our vision and mission is to transform Bayelsa in all sector, we are looking at Bayelsa beyond oil.
Comments
comments