The Federal Ministry of Sports has officially recognized the Mixed Martial Arts as an official sporting activity, amongst other Nigerian Sports.
The approval was made on the 17th of January 2023 by the Honourable Minister of Youth and Sports Development, Nigeria, Sunday Akin Dare.
The Nigerian Mixed Martial Arts (NMMA) which is an embodiment of amateur mixed Martial arts, was founded in Nigeria in 11th of March 2014.
The long awaited endorsement was sparked off by the Martial arts athletic performances in the Nigerian National Sports festival held in December 2022 at Asaba, Delta State Nigeria.
The Nigerian Mixed Martial Arts is affiliated to the International Mixed Martial Arts Federation (IMMAF), headed by the world President, Kerrith Brown, a retired Judoka gold medalist.
The official governing body which is the Nigerian Mixed Martial Art Federation (NMMAF) is headed by a World karate champion (Thailand 2015 ) and multiple award winner, Amb Henry George, as its President and Veteran martial artist, Dr Ebere Bernard as the Director, Youths Development.
In a recent WhatsApp chat with Journalists, Sensei Henry George, while lauding the Sports Minister said
"I am grateful to the Ministry of Youth And Sports Development, Honourable Sunday Dare for keeping to his promise.
This is a big one for us and a big one for Africa because alot of African counties are actually looking up to Nigeria considering the two world champions and the talent we have in Nigeria. This recognition will give a clear direction and a career part for our athletes. With this, Federation athletes can make a transition to Mixed Martial Arts as an athletes having the opportunity to represent their states which will also give room to representing the country and become an African and world champion"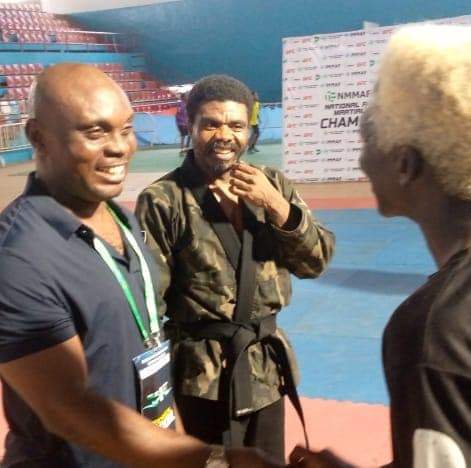 Earlier, the NMMAF President while pledging his commitment said,
"Our job is simple, it is to develope, establish, manage and control the sports and enforce standard.
And also ensuring clean athletes by applying and enforcing the anti-dopping code.
We want to see our fighters dominate the African scene and the world platforms and making our fighters to be grounded growing through the amateur system to the professional system"
The primary goal of NMMA focuses on bringing local talents to limelight.
It is also aimed at diverting the attention of the youths from evil vices such as cultism, kidnapping and other related crimes in the society.
Amb. Henry also acknowledge IMMAF governing body for the significant roles played, to achieving this feat.
"I want to especially thank IMMAF President Kerrith Brown and the IMMAF board of directors for their great support. I would also like to show our appreciation to IMMAF Director of Member Relations Gosha Malik, who worked tirelessly to see this historic moment."
Nigerian Mixed Martial Arts Federation (NMMA) is said to be one of the fastest growing combat sports for youths in Nigeria. It is a welcome development in the sports world.
Comments
comments