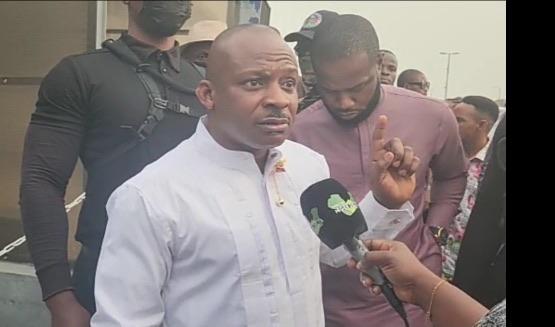 President of Ijaw Youth Council IYC worldwide Dcn.(Comr.) Peter Timothy Igbifa GCPA, CPIN has demanded for immediate payment of contractors of Niger Delta Development Commission (NDDC) who have executed their contract and been owed.
The IYC President made this demand at the Portharcourt International Airport Omagwa where he led thousands of IYC members to welcome the new board members of the NDDC.
He said "Contractors have done their jobs and they are being owed, the MD will clear their debt, the board cannot be receiving millions, billions, trillions and be owing contractors"
Igbifa said all projects that have not been awarded will be award under the administration of this new board and the process of Needs Assessment will begin immediately.
You will recalled that Peter Igbifa was among the top Activist that agitated for the inauguration of the substantive NDDC board.
When interviewed by our correspondent on why his heart is full of joy, Igbifa said that he is happy because he is alive as president of IYC to see that what he started finally comes to fruition.
He insisted that he is optimistic that the new MD, Dr Samuel Ogbuku will deliver.
Comments
comments