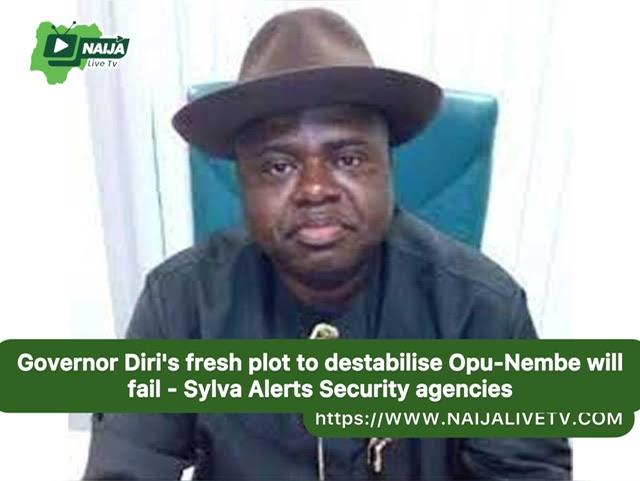 The Bayelsa State Governorship Candidate of the All Progressives Congress (APC), Chief Timipre Sylva, has alerted security agencies and members of the public of a fresh plot by the state Governor, Senator Douye Diri, to stoke fresh crisis in Opu-Nembe ahead of the November 11 governorship election.
Sylva in a statement signed by his Special Adviser, Media and Publicity, Julius Bokoru, said Diri had been the hand behind Opu-Nembe bloody crisis in the past two years.
Insisting that the governor had shown nothing but absolute disdain to the people of the area, Sylva said Diri was only interested in keeping Opu-Nembe in crisis because it is the stronghold of the All Progressives Congress (APC).
Sylva said upon his return from junketing abroad, Diri was angry to behold that the Inspector-General of Police hearkened to the outcries of the people and restored calm in Opu-Nembe.
He said: "It is very concerning that Governor Douye Diri of Bayelsa State has become obsessed with Opu-Nembe, a community for which he had shown absolute disdain. If you ask Governor Diri to point to one project he has done in Opu-Nembe, be assured he cannot point to half a project.
"Many believe, however, he has been the hand behind the crisis in Opu-Nembe for the past two odd years. He clearly showed his leprous hand earlier this year. Before the elections became eminent and before Sylva emerged as Gubernatorial Candidate of the APC Governir Diri had shown only contempt for Opu-Nembe.
"It is quite disturbing that Governor Diri only woke up from his slumber at this time when at the plea of the community the Inspector-General of Police waded in and got the community back on its feet again.
"Opu Nembe is calm now and even the the PDP Chairman of Nembe Local Government Area, spoke up and expressed satisfaction. Opu-Nembe is grateful to President Tinubu and the IGP for the peace that is being enjoyed now.
Governor Douye Diri returned from his junketing abroad and since then has been stoking the dying embers of fire in Opu Nembe.
"Every thinking person knows that Diri's obsession with Opu-Nembe is not unconnected with the coming governorship election in Bayelsa State. Opu-Nembe happens to be a stronghold of the APC and the governor has vowed to destabilize it at all cost".
Sylva told security agencies that Diri's constant bullying of the hapless Opu-Nembe people had becoming too much adding that the governor had made the community a topic in all Security Council meetings in Bayelsa.
The former governor said that if Diri continued to interfere in the affairs of Opu-Nembe now that the situation is calm, patrons of the community and concerned Bayelsans would have no choice but take legitimate actions to protect the community from cynics who only trade in innocent blood.
He said: "Governor Diri is also a candidate like other governorship candidates in the coming elections. We expect that security agencies in Bayelsa State will respect that and stop appearing partisan.
"Opu-Nembe people will not sit back and watch traditional chieftaincy institution being bastardised. Goveenoe Diri should realize that he is dealing with at ancient culture with established ways of doing things. He is not from Opu-Nembe.
"There has been no reported case of violence at Opu Nembe since the IGP's team moved in, all parties are back and peace is restored. This renewed obsession by Governor Douye Diri, including threatening to deploy his own security squads to Opu Nembe is desperate, appalling and infantile.
"Douye Diri's primary and only interest with Opu-Nembe should be to develop the community and support the peace already in place. His pipe dream of destabilising Opu-Nembe at all cost before the elections will be bravely resisted by the community, citizens and every Bayelsan of goodwill.
"Governor Diri should use our common patrimony to develop the state instead of embarking on futile actions and attempts to bribe his way through the elections".
Comments
comments