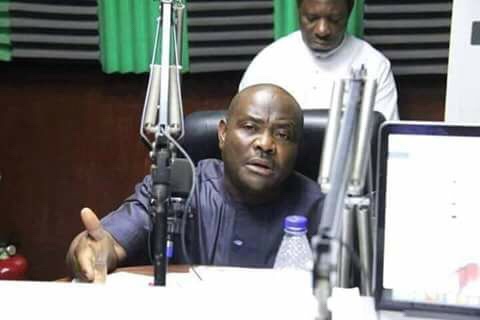 #NaijaLiveTv
An Abuja based lawyer and political analyst, Realwan Okpanachi has alleged that the Executive Governor of Rivers State, Nyesom Wike of the Peoples Democratic Party (PDP) is working for President Muhammadu Buhari's re-election in 2019.
Okpanachi claimed that Gov. Wike chose to work for President Buhari's re-election in 2019 general elections because of his selfish political ambition, which was the reason he hijacked the PDP political structures.
According to him, Wike was seeking federal support for his own re-election in exchange for a weak PDP presidential candidate, whom Buhari can easily defeat in 2019 presidential elections.
He maintained that Wike knows that if a PDP candidate becomes president in 2019, he was going to lose his hold on the party and would have nothing to gain.
He further alleged that Gov. Wike was afraid of Rotimi Amaechi, the Minister of Transport because he knew how he came to power as Governor of Rivers State.
"Wike used federal might when he was Minister to win election over Amaechi and become Governor of Rivers. Therefore, he's afraid that Amaechi, if allowed to use the same federal might, will unseat him.
"It is a business bargain; Wike is bargaining with the PDP structure, with the soul of PDP. He is negotiating with the presidency to give him support at the federal level,'' he said.
The lawyer said that Wike's crave for control of the party structures was for him to get re-elected was not all, "that will not be worth all the money he's spending or the troubles.''
According to the lawyer, "there is something Wike is out to achieve that he cannot achieve in 2019 which makes him play every game to ensure that PDP is defeated in 2019.''
"This will allow him to gain that which he is out to achieve in 2023. So it will be in the best interest of Wike if PDP is defeated in 2019 so that he will continue to have his hold on the party until 2023 where his interest really lies.
"By then he will be ripe either for presidency, senate presidency or to be taken as Vice President if the PDP choose to take their ticket back to the north,'' Okpanachi said.
He said that Wike was already trading with the presidency in order to be guaranteed a re-election, so that he will be politically relevant till 2023.
Comments
comments