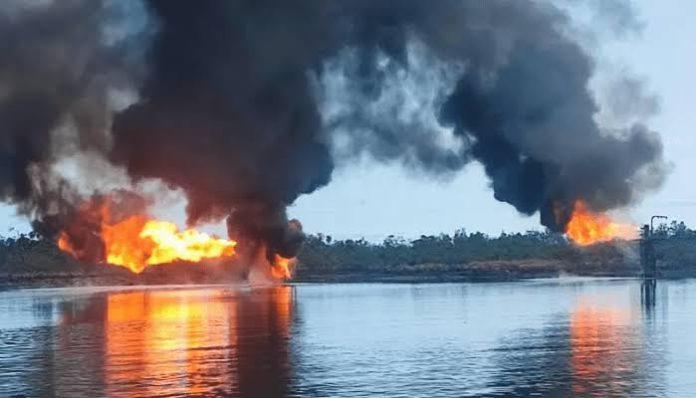 The ongoing fire at Oil Mining Lease (OML) 18 operated by Eroton Exploration and Exploration Company has been extinguished.
NAIJA LIVE TV learnt that a fire incident suspected to be caused by activities of suspected oil thieves engulfed the Akaso 15L wellhead at Degema Local Government Area in Rivers on January 20 and has been burning and discharging oil and gas into the ecosystem.
Mr Idris Musa, Director-General, National Oil Spills Detection and Response Agency (NOSDRA) said on Friday that the fire was put out on Feb. 1.
He explained that the oil wellhead has been secured by an indigenous well control firm Kenyon International West Africa Ltd.
It would be recalled that the indigenous firm was deployed to halt a well leak that lingered for over one month at the OML 29 operated by Aiteo Eastern Exploration in 2021 when expatriates from Haliburton failed to deploy to site due to COVID-19 lock down.
Musa said that the spills management agency was engaging the operator of OML 18 for a Joint Investigative Visit (JIV) to the fire incident site which has been discharging oil and gas, polluting the area.
Eroton had confirmed the well-head fire incident at its Akaso field of the Cawthrone Channel operational area within OML 18 on January 20, 2023.
Spokesperson of the indigenous oil firm , Mercy Ebibai, had in a statement, explained that the well was reported to be releasing hydrocarbon to the environment with wildfire due to suspected activities of vandals and oil thieves at the oil wellhead.
Eroton had in 2015 acquired a 45 per cent interest in OML 18 for $737 million following the divestment by the erstwhile operator, Shell.
Comments
comments