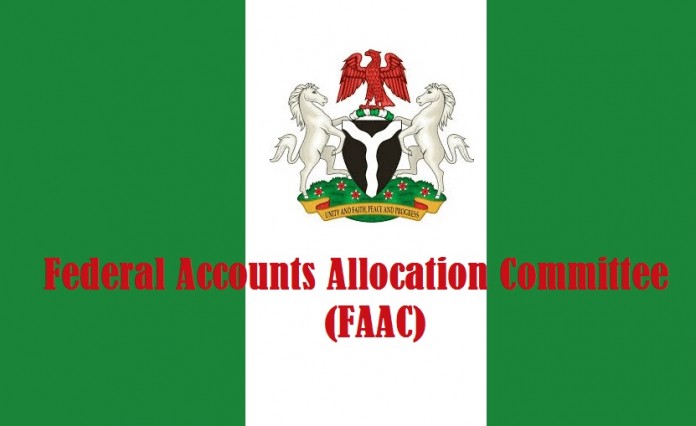 A total of N701.022 billion was distributed as federal allocation for the month of May 2018 among the federal, state and local governments as part of the revenue received in the month of April, 2018. The permanent secretary in the federal ministry of finance, Dr Mahmoud Isa-Dutse, told journalists after the monthly Federation Account Allocation Committee (FAAC) meeting yesterday in Abuja that the sum of N24.5 billion was removed from the total revenue received and saved in the Excess Crude Account (ECA), bring the balance in the account to $1.911 billion.
Figures released at the end of the meeting showed that the gross statutory revenue received for the month is N613.057 billion which is higher than the N480.599 billion received in the previous month by N132.458 billion.
A communiqué issued by the accountant-general of the federation, Ahmed Idris, showed that the Nigerian National Petroleum Corporation (NNPC) refunded N11.269 billion. The Committee is yet to settle the controversial issues of differentials from the NNPC that stalemated the last two FAAC meetings. Crude oil export sales volume increased by 64 per cent when compared with the 7.72 million barrels from the previous month, resulting in increased revenue from Federation Crude Oil Export Sales by $226.90 million. Average crude oil price increased from $65.72 to $66.78 per barrel. There were significant increases in revenues from Petroleum Profit Tax, Company Income Tax and Oil Royalty. Import duty and Value Added Tax recorded marginal increases. The sum of N83.401 billion was generated from VAT.
Based on the available Net Statutory revenue, the federal government received N276.535 billion, representing 52.68 per cent; states received N140.262 billion, representing 26.72 per cent; local government councils received N108.136 billion, representing 20.60 per cent, while the oil producing states received N49.756 billion, representing 13 per cent derivation revenue.
From the revenue available from VAT, the federal government received N12.510 of 15 per cent of the figure, while the 36 states got 50 per cent, representing N41.701 billion from which the local government councils received N29.190 billion, representing 35 per cent.
Meanwhile, chairman of the Nigerian Commissioners Forum, Mr Mahmood Yunusa, said members of the forum had begun talks with the federal government for a review of the current sharing formula to make it possible for states and local councils to have a larger share of the statutory revenue. "We are pushing for review of the revenue sharing formula," he said
Comments
comments